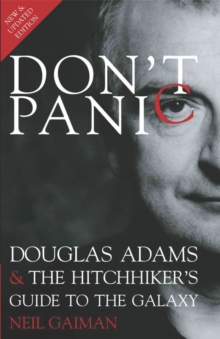 Don't Panic : Douglas Adams and "The Hitchhiker's Guide to the Galaxy"
Paperback
Description
Upon publication, "Don't Panic" quickly established itself as the definitive companion to "Adams" and "The Hitchhiker's Guide to the Galaxy".
This edition comes up-to-date, covering the movie, "And Another Thing" by Eoin Colfer and the build up to the 30th anniversary of the first novel.
Acclaimed author Neil Gaiman celebrates the life and work of Douglas Adams who, in a field in Innsbruck in 1971, had an idea that became "The Hitchhiker's Guide to the Galaxy".
The radio series that started it all, the five - soon to be six - book 'trilogy', the TV series, almost-film and actual film, and everything in between.
Information
Format: Paperback
Pages: 288 pages, 5pp b/w illustrations
Publisher: Titan Books Ltd
Publication Date: 15/09/2009
Category: Biography: literary
ISBN: 9781848564961
Free Home Delivery
on all orders
Pick up orders
from local bookshops
Reviews
Showing 1 - 2 of 2 reviews.
Review by bragan
16/06/2015
An account of Douglas Adams' professional life, with an emphasis (of course) on the Hitchhiker's Guide series in its many and varied iterations. I wouldn't call this absolutely essential reading for the Douglas Adams fan; it's not exactly chock full of juicy details and surprising anecdotes. But it is a decent overview of Adams' career, with lots of quotes from the man himself, as well as from various other relevant folks. And it's a pleasant read, breezily and amusingly written, often with a deliberately Adams-esque sense of humor. It's also got some interesting odds and ends, including snippets of deleted scenes from the radio plays and TV show (although it's often rather obvious why they were cut) and several appendices, featuring such things as a plot-point-by-plot-point summary of the different versions of the story and some commentary by Adams on each of the characters.
Review by TammyDewhirst
16/06/2015
Written much in the style and humor of the author it honors, Neil Gaiman's "Don't Panic: Douglas Adams & The Hitchhiker's Guide to the Galaxy" is a wonderful treat for fans of "The Hitchhikers Guide to the Galaxy" and its author. The book contains supporting material from Douglas Adams himself, as well as his own words as compiled from Gaiman's interviews with him, as well as a tireless search of the media.Adams early aspirations were toward the stage. He saw John Cleese perform while at Cambridge and thought to himself, "I can do that… I'm as tall as he is" (page 7). Gaiman connects for the reader Adams early work with the work that would become The Hitchhiker's Guide to the Galaxy. While working with Graham Chapman after the days on Monty Python's Flying Circus, Adams amassed ideas he thought either too good to discard or too interesting to forget and they would make up elements of his later masterpiece. The Adams that Gaiman outlines for us very much worked on instinct and inspiration. Douglas said that he "Didn't so much like writing as having written (Page 7)."Don't Panic: Douglas Adams & The Hitchhiker's Guide to the Galaxy" is a fanboy love letter to an author known and admired. There is, after all, a reason a day is dedicated to this internally best-selling author. "Don't Panic: Douglas Adams and the Hitchhikers Guide to the Galaxy" is a wonderful reference for any fan of Douglas Adams and gives us a true insight into his process, his insecurities, his challenges and ultimately his success. Written in the light and thought-provoking style of its subject, I am now inspired to go out and snap up everything Nail Gaiman has ever written.On Page 59, Gaiman lists three opinions of why "The Hitchhiker's Guide to the Galaxy" was so successful. The consensus seems to be that it's because it's not like nothing the reading public had ever seen before. As someone who first read Adams as a teenager and has been searching for like authors for the better part of my life, I believe this perfect style of brilliance and madness is so hard to produce that we'll see it infrequently as time goes on. Adams is lost to us now. Jasper Fforde remains, and up and coming authors like Ford Forkum as well, but catching the magic in the bottle that was Adams is elusive. "Don't Panic: Douglas Adams & The Hitchhiker's Guide to the Galaxy" was a sheer delight to read and to remember the man that was Douglas Adams.