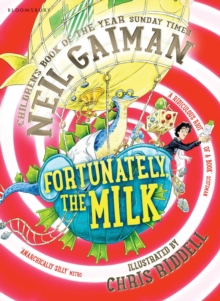 Fortunately, the Milk . . .
Paperback
Description
You know what it's like when your mum goes away on a business trip and Dad's in charge.
She leaves a really, really long list of what he's got to do. And the most important thing is DON'T FORGET TO GET THE MILK. Unfortunately, Dad forgets. So the next morning, before breakfast, he has to go to the corner shop, and this is the story of why it takes him a very, very long time to get back. Featuring: Professor Steg (a time-travelling dinosaur), some green globby things, the Queen of the Pirates, the famed jewel that is the Eye of Splod, some wumpires, and a perfectly normal but very important carton of milk. The award-laden, bestselling Neil Gaiman, author of The Ocean at the End of the Lane, Stardust, Neverwhere, The Graveyard Book and Coraline, brings his biggest ever publishing year to a spectacular conclusion with this gloriously entertaining novel about time-travel, dinosaurs, milk and dads.
Information
Format: Paperback
Pages: 160 pages
Publisher: Bloomsbury Publishing PLC
Publication Date: 05/06/2014
Category: Fantasy
ISBN: 9781408841792
Other Formats
Hardback from £8.39
EPUB from £6.64
Free Home Delivery
on all orders
Pick up orders
from local bookshops
Reviews
Showing 1 - 2 of 2 reviews.
Review by aoibhealfae
16/06/2015
I genuinely think Neil Gaiman did watch all Doctor Who episodes for his "The Doctor's Wife" scriptwriting and mush everything he had researched and wrote it in this near fanfiction book and sell it off to be children books. <br/><br/>Its a story about a father who was left at home with his kids who was complaining about the lack of <s>milk</s> in the fridge. Then he tell his kids about stories of him <u>travelling across space</u> and time in a <u>time machine</u> <s>TARDIS</s> <u>hot-air balloon</u> as a <u>companion</u> with a <u>space time travelling dinosaur</u> <s>Doctor</s> <u>Professor</u> and went to <u>meet all bunch of aliens and pirates</u> (Splod, Splott.. or Ianto's "Its Sploee") and <u>fought with them</u> while trying to save a bottle of milk for his "its not breakfast cereal without milk!" children. You see those underlined stuff, ALL of it was Doctor Who-related stuff and I could point out exact episodes where you can reference to them. Even the milk is a "deus ex machina" screwdriver and Clara Oswin Oswald!<br/><br/>Unfortunately, I read through this book in a record time because of its length, honestly, it would have been better if I had listen to this book instead of reading them but it was B&amp;W illustrated and there's no audiobook of it yet. What I had in my kindle was the $6.66 (RM22) American version illustrated Skottie Young while there's the RM40 hardcover UK version illustrated by Chris Riddell which I browsed in Popular. There's a huge difference between either these two (the father in UK version was an illustrated version of Neil Gaiman complete with his ever memorable hair) so feel free to spend more money to buy the same book because its probably worth it anyway.<br/><br/>"Fortunately, the Milk" reminded me about his free spirited "Crazy Hair" but I wish I could separate myself away from the obvious Doctor Who references but it was too predictable even for me. I did enjoy the talking dinosaurs bit and the part about the milk having unusual ability to withstand every kind of dangers and the wumpire part but my younger nieces would have enjoyed it better since they fit the demographic of this book and even though they're Doctor Who fans, they probably slid off the unsubtle references a bit more than I could.<br/><br/>Lastly, everybody want to be a Doctor's companion. Even Neil Gaiman.
Review by nebula21
16/06/2015
This is a nicely illustrated tale for children about a dad who goes out for some milk and comes back with an interesting, if not entirely believable, tale to tell.