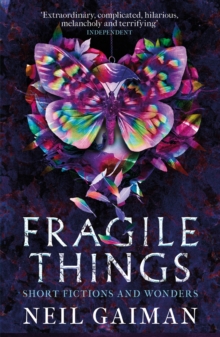 Description
Neil Gaiman's extraordinary Fragile Things, from the bestselling author of The Ocean at the End of the Lane and American Gods, reveals one of the world's most gifted storytellers at the height of his powers, and harnesses the Gothic power of Angela Carter's The Bloody Chamber to the storytelling genius of Stephen King. 'The collections also boasts lush prose . . . and a winning faith in the enchantment of stories' Kirkus ReviewsThe distinctive genius of Neil Gaiman has been championed by writers as diverse as Norman Mailer and Stephen King.
With THE SANDMAN Neil Gaiman created one of the most sophisticated, intelligent and influential graphic novel series of our time.
Now Gaiman has produced FRAGILE THINGS, his second collection of short fiction.
These stories will dazzle your senses, haunt your imagination and move you to the very depths of your soul.
Information
Format: Paperback
Pages: 448 pages
Publisher: Headline Publishing Group
Publication Date: 05/04/2007
Category: Short stories
ISBN: 9780755334148
Other Formats
Paperback from £7.85
EPUB from £4.99
CD-Audio from £16.95
Free Home Delivery
on all orders
Pick up orders
from local bookshops
Reviews
Showing 1 - 5 of 5 reviews.
Review by reading_fox
16/06/2015
26 (very) short stories and a novella "Monach of the Glen" from the American Gods universe. From the back cover "All are fragile things made of just 26 letters arranged and rearranged to form tales and imaginings ... move you to the very depths of your soul" the last line is overdoing it somewhat but it captures the quirky sense of all the tales. The opening story is a strange Sherlock pastiche, others feature just poems or more connected tales. My favourite is probably "how to talk to girls at parties" which was weird, but fun. Others are darker and more disturbing. More fantasy and less connected than Jeff Noon's "Pixel juice" it somehow captures the same spirit of quirky sideways glances at the world around us. There are re-occuring characters, but not as a continual thread. "The Monarch of the Glen" - the novella set a couple of years after american gods - was good enough that I shall consider buying American Gods when I see it.A must have for Gaiman fans, and a pretty good offering for any lover of the short story format, I found it darker than I prefer to read, and won't often be re-reading it. Few of the stories, genuinally caused me to stop and ponder, the way C J Cherryh continually does.
Review by queen_evie
16/06/2015
Pure brilliance, each story was round and whole even though they're short. Gaiman has the imagination of a 5 year old with the vocabulary of a walking dictionary. He pinpoints things perfectly with words, his stories take you everywhere from seedy London clubs to the depths of hell, to teenage alien parties. I look forward to reading more of Gaiman's work. He is a consummate storyteller.
Review by pratchettfan
16/06/2015
A fantastic short story and poetry collection by Neil Gaiman. Almost every story present has a unique style and / or setting, making this collection a must read for anyone who appreciates a good story.
Review by devenish
16/06/2015
This is Neil Gaiman's second collection of short stories and his poorest book to date.Let us pick over the bones (heh heh) and see what we can make of this body of work.A Study in Emerald is excellent,but has already appeared in Shadows over Baker Street (which is readily available.The Fairy Reel -this and the other poetry I will ignore as,let's face it,it is not very good at all.October in the Chair is quite a clever story,which doesn't however take us very far.Forbidden Brides of the Faceless Slaves in the Secret House of the Night of Dread Desire.Crikey ! The title is nearly a short story in itself.Now this one I did like.Not a lot of funny horror stories about are there.Other People.Yes,this is also a good one A story straight from Hell !Harlequin Valentine. Sad-Quite liked it I suppose.The Problems of Susan. A new take on Narnia,and a somewhat unpleasant one at that.Feeders and Eaters. The title says it allGoliath. A tie-in with the Matrix trilogy of films.If you haven't seen them,don't bother to read this,it won't make sense.The Monarch of the Glen. For me the best of the lot.This is a follow-up to American Gods and the longest story in the collection.As for the rest-a poor sad lot.
Review by brianclegg
16/06/2015
A superb set of short stories that rivals Gene Wolfe in cleverness, but is often less obscure than Wolfe. Inevitably one or two duds, but so many little gems.