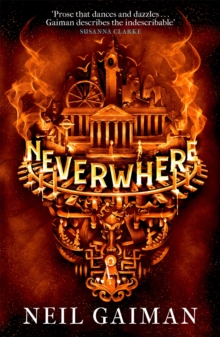 Description
Neverwhere is the stunningly original first novel from Neil Gaiman, the bestselling and prizewinning author of The Ocean at the End of the Lane and American Gods. Wired called it 'the sort of book Terry Pratchett might produce if he spent a month locked in a cellar with Frank Kafka'. This is a must-read for all those who loved Susanna Clarke's Jonathan Strange and Mr Norrell or the magical world of J.K.
Rowling.Under the streets of London there's a world most people could never even dream of.
A city of monsters and saints, murderers and angels, and pale girls in black velvet.
Richard Mayhew is a young businessman who is about to find out more than he bargained for about this other London.
A single act of kindness catapults him out of his safe and predictable life and into a world that is at once eerily familiar and yet utterly bizarre.
There's a girl named Door, an Angel called Islington, an Earl who holds Court on the carriage of a Tube train, a Beast in a labyrinth, and dangers and delights beyond imagining . . . And Richard, who only wants to go home, is to find a strange destiny waiting for him below the streets of his native city.Includes extra material exclusive to this Headline Review edition.
Information
Format: Paperback
Pages: 400 pages
Publisher: Headline Publishing Group
Publication Date: 19/09/2005
Category: Science fiction
ISBN: 9780755322800
Other Formats
Hardback from £11.79
CD-Audio from £16.25
EPUB from £4.99
Paperback from £7.99
Free Home Delivery
on all orders
Pick up orders
from local bookshops
Reviews
Showing 1 - 5 of 19 reviews.
Previous | Next
Review by orangefraggle
16/06/2015
I really don't understand why this book got so many great reviews. I bought is as I felt like reading some escapist fantasy but it really doesn't match up to much better authors like Kate Elliott and Mark Chadbourn or Terry Prachett or Terry Goodkind.I never cared about any of the characters. The plot was obvious with no real suspense. Apparently the author put jokes in it, I didn't laugh once. I felt the writing was too explantory. If you want modern alternative reality they I really recommend Mark Chadbourn the history and myths he draws on are much more sucessfully interwoven in the story instead of feeling like set pieces, there is actual plot and you will really care for the characters.
Review by C.Surawski
16/06/2015
I love this book - I was completely lost in the world Gaiman created in this book and didn't want to put it down.
Review by pratchettfan
16/06/2015
Richard Mayhew finds himself in a world he didn't know existed, a world below London where people speak with rats, an Earl holds his Court and and mystical beasts roam. Everything started when Richard helped an injured girl he found on the street. This opened a door for him into this other London and he is desperately looking for a way out. A terrific fairy tale with extremely nasty villains, people with hidden agendas and lots of humorous scenes in between: "Who do you think we are? The Wizard of Oz? Of course we can't bring you back home!"
Review by AJBraithwaite
16/06/2015
Enjoyable fantasy about the 'other' London, a dangerous, dark place which exists mostly underground and on rooftops. Puts the weirdness of the London Underground into a whole new category of weird - I'll never be able listen to the 'Mind the Gap' announcement without thinking of this book.
Review by wandering_star
16/06/2015
I was blown away by American Gods when I read it a few months ago, but this didn't do very much for me.Possibly some of it's because I wasn't anticipating anything particular of American Gods, but having loved that I approached this with different expectations. But I just don't think this one was as good.I really like the premise - the idea of a parallel universe beneath London, where the people who "fall through the cracks" in our society end up. But the character from our world who ends up there, Richard, seems ludicrously slow on the uptake, and it's full of bad jokes - an angel called Islington? Really?