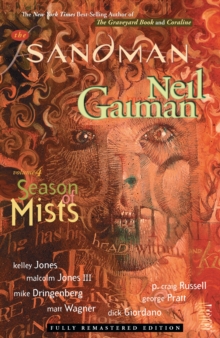 Sandman TP Vol 04 Season Of Mists New Ed
Paperback
Description
Written by NEIL GAIMAN Art by KELLEY JONES, MIKE DRINGENBERG, MATT WAGNER, GEORGE PRATT, P.
CRAIG RUSSELL and others Cover by DAVE MCKEAN Volume Four of New York Times' best-selling author Neil Gaiman's acclaimed creation, with updated coloring and new trade dress.
Ten thousand years ago, Morpheus condemned a woman who loved him to Hell.
Now the other members of his immortal family, The Endless, have convinced the Dream King that this was an injustice.
To make it right, Morpheus must return to Hell to rescue his banished love - and Hell's ruler, the fallen angel Lucifer, has already sworn to destroy him.
On sale JANUARY 26 * 192 pg, FC
Information
Format: Paperback
Pages: 192 pages
Publisher: DC Comics
Publication Date: 26/01/2011
Category: Comics and Graphic Novels
ISBN: 9781401230425
Free Home Delivery
on all orders
Pick up orders
from local bookshops
Reviews
Showing 1 - 4 of 4 reviews.
Review by DeltaQueen50
16/06/2015
WARNING - SLIGHT SPOILERSThere was much to like about The Sandman Vol. 4: Season of Mists starting with the gathering of the clan, seeing how the Endless react with each other, and having Morpheus's error of judgement pointed out to him by his siblings. We are taken back to the story of Nada and how Morpheus condemned her to Hell. Now he is on a quest to correct his mistake and in typical Gaiman style the story is epic and brings in the gods of mythology, as well as deities from various religions and even visitors from the fey. A typical mixed bag that this author seems to delight in writing about.So what happens when Lucifer decides to quit, and the gates of Hell are closed? Where do the dead go? Where indeed does Lucifer go? These questions are all answered in Season of Mists, and answered to my great satisfaction. Gaiman has once again provided a story that makes the reader think on a wider scale, but he also never hesitates to give us an appreciation of the smaller moments in life, be it the birth of a baby or a beautiful sunset. My biggest delight in Season of the Mists was probably my surprise in the direction that the story took. It started off looking like this was going to be a tale of epic battle. Showing Dream storming the gates of Hell, battling Lucifer to get back the women he condemned to be there. Instead, with a simple twist, the story is taken into another direction entirely, and Lucifer gets his revenge by trapping Dream into a responsibility that he did not look for or want.I can't wait to see where we are going to be taken next.
Review by GingerbreadMan
16/06/2015
This is the first time in the Sandman series we encounter a book with a more or less single story line. And this tale of how Lucifer sets a trap for Sandman by – literally – giving him Hell, is just wonderful and one of my favorite parts of the series. The Endless are introduced as a pretty dysfunctional family (love how Destiny is calling a family gathering to tell them of a occurance of great importance – which turns out to be the gathering itself), and even though we are only getting glimpses of them and their dynamics, it triggers the curiosity for the rest of the series. I also like how Dream is pictured as a real naïve, insensitive brute here, while we still get to believe his intention of trying to put things right.We get to see Gaiman really play with his knowledge of mythology, as the Dreaming is visited by lots of envoys trying to get their hands on Hell – a very attractive piece of metaphysical estate. As he does so well, Gaiman blends actual allusions with inventions and twists of his own. To my knowledge, Tor's hammer Mjölner does not "get bigger when you stroke it". And Loke usually doesn't carry the epithet "Sky-Walker". These are little winks to the reader in the know, and makes you feel smart when you spot them. And walking among established mythological creatures like Anubis and Odin, you find entities like Duma the angel of Silence or The Merkin, mother of spiders, who, I guess, are Gaiman originals. But as so often with this writer, you can never be SURE. They feel potentially archetypical. Which is high praise. My favorite part of this book though, is Morpheus' visit to Hell and talk with Lucifer. I love how Hell is presented as a place driven by the need to be punished, manifest in the intriguing and pathetic Breschau. I love Lucifer's tired rants against the demonkind: fashion-sensitive, plotting, obsessed with rank and little games. And for the first time here, the artwork is adding to the experience of Sandman. Hell and it's inhabitants are really scary and weird here (compare to the cartoony silliness of the first book!) and the art creates both ambience, distance and occasional humor (Tor, anyone?). Just note the variety of doors Lucifer locks up! The idea of a door to hell in an office or a low hedge appeals to me great deal. I also want to give a shout out to Todd Klein, who does the lettering. Here he excels in finding distinct and fitting designs for each person's balloons, really adding to the reading experience. This volume's "mid-tempo track 11 that you discover after listening to the album a hundred times" for me is episode 4, the book's only real detour. It's never been a favorite before, but now I find myself enjoying it's very british cartoony feel and grotesque imagery, and even it's disproportionate art. All in all, this is a book to revisit a hundred times. (And even on the fourth reread, the concluding, Lambsheadian presentations of the team crack me up.)
Review by BooksForDinner
02/03/2016
The series is really getting good now, my favorite book so far. Creative storylines, and I think the best artwork yet.
Review by gbill
27/01/2016
It looks like The Sandman series really hit its stride with volume 4, 'Season of Mists'. At the outset, we are introduced more completely to the characters which make up the Endless family at a reunion of sorts: Destiny, Death, Dream, Desire, Despair, and Delirium. (The 'prodigal son', Destruction, remains missing). Each is well crafted and interesting in its own right, but Dream and Delirium are particularly fun. Because of this opening to the story, you really could start the series with this volume, and then catch up with the first three volumes as 'prequels' later.Anyway, Dream then goes off on a mission to Hell to rescue Nada, a lover who was sent there 1,000 years ago because of him. At this point in this story, it could simply turn into a battle between The Devil (and all his minions) and Morpheus, but Gaiman does a clever thing in having Lucifer simply close up shop, and abdicate his realm to Morpheus. Holding the key to Hell, Dream then finds out just how many desire it, as they come out of the woodwork from various cultures and religions to attempt to get it for themselves: a contingent from Aesir (Odin, Thor, and Loki), ancient Egypt (Anubis, Bast, and Bes), Japan (Susano-O-No-Mikoto), demons from Hell (Azazel, Merkin, and Choronzon), "Chaos", "Order", and angels from Heaven (Remiel and Duma). With such a rich cast of characters present at a dinner party, all either offering Dream things or threatening him, and knowing he must make a choice that will anger all the others, all while wondering what will become of Nada, it makes for a very enjoyable read.