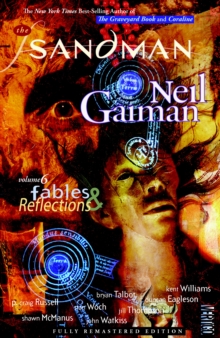 Sandman TP Vol 06 Fables And Reflections New Ed
Paperback
Description
Written by NEIL GAIMAN Art by P. CRAIG RUSSELL, JILL THOMPSON and others Cover by DAVE McKEAN A new edition of this title collecting issues #29-31 and SANDMAN SPECIAL #1, in which Morpheus delves into the dreams of Augustus Caesar, Cain and Abel, Marco Polo, Orpheus and more.
On sale AUGUST 31 - 168 pg, FC, $17.99 US - MATURE READERS
Information
Format: Paperback
Pages: 168 pages
Publisher: DC Comics
Publication Date: 31/08/2011
Category: Superheroes
ISBN: 9781401231231
Free Home Delivery
on all orders
Pick up orders
from local bookshops
Reviews
Showing 1 - 5 of 7 reviews.
Previous | Next
Review by SparklePonies
16/06/2015
I would recommend this book for adults and older teens. The art work is graphic and there is a lot of mature content. That being said this is a great read. This is part 6 of a 10 part series. In this volume we learn more about Morpheus' family. In this volume there are many looks at historical events and Dreams role in them. I especially loved the story about Emperor Norton I.
Review by GingerbreadMan
16/06/2015
Again, one of the neat things that strike me as I re-read this whole series, is that Gaiman uses the short stories as part of the big arc too. Despite hopping back and forth in time, taking us from the French revolution to Greek Mythology, from Biblical creation stories to USA at the turn of the last century, and often featuring Dream only as a bit player, these shorts are not just intermission pieces. In one we find out about Desire's plan to make Dream spill his own blood, in another we learn about Dream as a parent, in a third hints are made of a new love story, and in a fourth baby Daniel (still just any kid) visits the Dreaming. All of these stories are good – the enigmatic "Ramadan" and the very ambitious "August" (offering a new possible explanation for the downfall of Rome, even!) being my favorites, and the artwork is quite nice and diverse this time. Stopping me from naming this voulme one of my real favorites, however, is that at times Gaiman seems to be more about flaunting knowledge than telling tales here (as in Thermidor, for instance, much more a brief portrait of Robespierre than anything else), and quite a few of the chapters are predictable, if well told (I like the banter in "The Hunt" a lot, but come on, who doesn't see the final twist a mile away?). Then again: this is a comic book mixing Marco Polo, Augustus, Hades, Emperor Norton I of America (I love that fact that he was real!), werewolves and Goldie the baby gargoyle witout it feeling the least bit strained. Gaiman has clearly spoiled me.
Review by DeltaQueen50
16/06/2015
The 6th Volume of The Sandman series, Fables & Reflections is a collection of assorted stories in which Morpheus makes an appearance. Some of the stories delve into his history and his siblings also show up in a random fashion. All these stories show a different side of Morpheus' nature and this volume does much to advance the series in various directions. Some familiar character make an appearance and some new ones, most notably, Morpheus's son, the tragic Orpheus are revealed.There are nine separate stories in this issue and I am sure everyone has their own particular favourites. I loved "Three Septembers and a January", featuring Emperor Norton I, and the "Parliament of Rooks" with Eve, Cain and Abel sharing stories with Matthew and Baby Daniel. The last story, "Ramadan" had a very different look with it's colourful artwork and intriguing storyline. Truly I enjoyed each story although for me, "Soft Places" and "The Hunt" didn't captivate my interest as strongly as most of the others.Fables and Reflections is a wonderful addition to the Sandman series and it is beguiling to see the craft and imagination that Neil Gaiman and his crew has put into each volume of this series.
Review by Jessiqa
16/06/2015
Simply put, this series is the best comic series I've ever read. There's such a rich mythology here and I'd have to re-read it all several times to truly grasp everything that's being proffered in this book. In fact I read most of these stories before in Absolute Sandman, volume 2. I think Ramadan may be the only one that was fully unfamiliar to me, but it all felt so new this time around. There's one story about The Emperor of The United States, a character I first encountered in Christopher Moore's San Francisco books. Thing, is this was a real fellow, who lived in 19th Century San Francisco. He was a homeless man who believed he was the Emperor and EVERYONE PLAYED ALONG. Seriously. I like how in some of the stories, the Sandman himself is really just a minor player. You'd think this would be annoying, that the title character barely makes an appearance in his own comic, but no. Gaiman draws the reader so fully into the plight of the main characters in the story, that one hardly notices that the Sandman and his black dialogue bubble have not been present on every page. A note on the art: beautiful. In Ramadan, especially, I was swept away by the grandeur of the city and the palace. Even the font in that story is beautiful. I should use it on my next tattoo. I recommend this to all lovers of fantasy and mythology. Given the historical setting of some of the stories, you might even learn something. Enjoy. Read the whole series. Trust me.
Review by AaronPt
16/06/2015
These collections of short stories are often what 'The Sandman' truly excels at, dipping into all the curious aspects of the dream world. This volume is a showcase for Neil Gaiman's knowlege of myth and stories and for the range of the illustrators. It's a credit that they manage to keep up with Dream as he roams through the centuries. A very entertaining read.