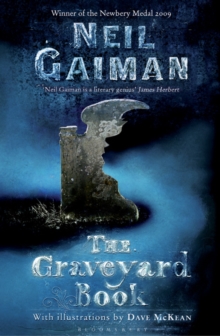 The Graveyard Book
Paperback
Description
When a baby escapes a murderer intent on killing his entire family, who would have thought it would find safety and security in the local graveyard?
Brought up by the resident ghosts, ghouls and spectres, Bod has an eccentric childhood learning about life from the dead.
But for Bod there is also the danger of the murderer still looking for him - after all, he is the last remaining member of the family.
A stunningly original novel deftly constructed over eight chapters, featuring every second year of Bod's life, from babyhood to adolescence.
Will Bod survive to be a man?
Information
Format: Paperback
Pages: 320 pages, B&W
Publisher: Bloomsbury Publishing PLC
Publication Date: 01/10/2009
Category: Horror & ghost stories
ISBN: 9780747598626
Other Formats
Paperback from £6.35
EPUB from £6.39
Free Home Delivery
on all orders
Pick up orders
from local bookshops
Reviews
Showing 1 - 5 of 8 reviews.
Previous | Next
Review by DRFP
16/06/2015
I have to confess that I'm not the greatest Neil Gaiman fan in the world. <i>Neverwhere</i> is quite atrocious, even for a children's book, and <i>American Gods</i> was all right, but nothing more. However I was feeling the need for some light reading and I keep trying to find reasons to like Gaiman more, so I gave this a try. It's quite okay. Gaiman's prose is still extremely lightweight and not above typical YA quality but there are enough decent ideas in this brief book to keep the reader engaged. Everything <i>is</i> still a bit slight but I've come to accept that from the author, so I'm not terribly disappointed or angry.If I was about 15 years younger I'd probably find this great. Yet as someone well into their 20s I can only find this novel rather middling. There are much better YA and fantasy books out there than this, but it's a pleasant enough distraction for a few days.
Review by Jenson_AKA_DL
16/06/2015
When a sinister man Jack seeks to forestall a prophesy by killing a family he is stonewalled in his quest by the nighttime wanderings of a toddler. Nobody Owens is growing up in the graveyard on the hill, protected by the dead, his guardian, Silas and the graveyard itself. Through his young years Bod has adventures and discovers secrets held for centuries, but the darkest secret of all is the one of those who continue to plot his murder and endlessly seek his hiding place.This is another book I had little interest in and only picked up because it was in audiobook form. I have to say that Neil Gaiman is quite and exceptional orator and listening to Bod's story of his growing up the son of the graveyard ghosts was amazing. I even found my eyes watering at the end, something I attribute mainly due to the feelings brought out by the excellent narration. Including Bod there is a host of interesting characters and even though we don't really know much about their personal details they still come to life in the context of the story. I adored Silas and never had a clue exactly what he was until I caught a review when I was about halfway through. I felt kind of foolish after that LOL! Ms. Lupeski was another very wonderful character that I thought was a lot of fun.The story itself, for the most part was very episodic as we followed Bod through his various stages of growing up and his monumental moments during them. Usually I would feel that the tale itself was disjointed being told in this way, but here it was very enjoyable with everything being tied together at the end when Bod uses all the knowledge he has gained to help himself out.Even though this is a story I wouldn't have picked up to read and probably wouldn't have enjoyed it half as much as I enjoyed having it read to me, I have to say it is quite imaginative. I do have to remark that the opening chapter was very of disturbing and I was unsure that it really would be a good tale for the ages it is directed at (from what I read ages 9 and up), but the remainder of the book wasn't too bad at all.If you're unsure of whether you want to read this or not I'd highly suggest at least checking out this audiobook. As an author he is good but as a reader he is simply magical :-)
Review by brokenangelkisses
16/06/2015
"There was a hand in the darkness, and it held a knife." This is the gripping opening to 'The Graveyard Book'. As his family are brutally murdered, a baby toddles away to a graveyard, where he is quickly enveloped by a world of ghosts and other supernatural beings. Educated by ghosts and monitored by a Guardian who is neither living nor dead, Nobody Owens ('Bod' for short) initially accepts his life in the graveyard. As he grows older, he yearns to be part of the living world, but somewhere out there lurks a killer who is determined to destroy him…This fantastical story has been marketed as a crossover book (one which is designed to appeal to adults and children) and certainly seems to have hit the mark. Nominated for and winner of several prizes for children's fiction, including the Carnegie Medal, the book has received much popular acclaim. So what is it like?A grave fantasyFrom the beginning and throughout the book is deeply atmospheric and dark. In chapter one, 'wisps of night-time mist slithered and twined into the house through the open door' as the murderer hunts for the baby. There is a strong focus on smell which at once helps to bring the scenes to life, but also emphasises the supernatural nature of the characters, whose senses seem heightened.If the fantastical nature of the story wasn't clear from the grey drawings sprinkled throughout the text, it would be obvious from the baby's ability to shed his human garments and toddle, naked, up a hill to reach a graveyard. Despite this clear movement towards a fantasy world, the real appeal of the story is in the humanity of the central character; Bod is a typical child: largely obedient, wanting to please, but innately curious and keen on fairness. He is an appealing character and, unsurprisingly, given that his whole family is murdered and he is hunted by a man with a knife, the reader cares about him from early on.A move from the Jungle to the GraveyardThe book is organised into 8 chapters but has 307 pages, so many of the chapters are very long. In fact, I would argue that for a children's book they are really too long and it would have been nice if they had been separated into sections to make the book a bit more readable. The length seems to be because each chapter is really an episode in itself and can be read almost without reference to the others. The titles of the chapters indicate that each is a mini-story following Bod's progress towards adulthood. Some stories are focused on friendship, others on strange creatures or on Bod's education, but they are all very dark and the world outside in the graveyard is, in many ways, darker than the world within. Certainly, the live people Bod meets are much more manipulative than the dead and his Guardian's desire to keep him in the graveyard begins to seem very wise.Some characters are recurring while others appear only once or twice. All are briefly sketched and there is no character development: thus, Bod's adopted mother is loving and friendly; his Guardian is mysterious and unknowable; the poet is insufferable in his vanity. This is not a problem in the world of the novel as each character slips in and out of the tale when required, and Bod himself does learn and develop as the stories progress. Some of the dialogue is entertaining and the interaction between characters in the graveyard often helps to make the story feel a little lighter.Gaiman states in the acknowledgements that he owes a debt to Kipling's 'The Jungle Book' and it seems that he wanted to create a similar tale of a disparate group of non-traditional guardians bringing up an orphaned baby. I am unable to comment on the similarities because it has been far too many years since I read 'The Jungle Book', but I would anticipate that if you have read that recently, it could be fun to make the links to this book. Like Mowgli, (and that more modern orphan, Harry Potter,) Bod seems to have a destiny: he must confront the man who killed his family. This is couched in both human and supernatural terms: it is Bod's destiny, but he does also want revenge and the horror of his actions is underscored by another character. My one disappointment with the book would be the explanation for the murder of Bod's family as I didn't think it was sufficiently clear or developed.An exceedingly minor irritationIn the first chapter, the killer is described as 'the man Jack' throughout. Why not just 'Jack' or 'the man'? I agree that somehow 'the man Jack' is a creepier description, on the first occasion, but not when it is repeated consistently. I found that this, albeit very minor point, disrupted my enjoyment of the first chapter, which was a shame because otherwise Gaiman has a very fluid style of writing and he successfully creates a dark atmosphere throughout the story.ConclusionsA dark fantasy that features a likeable central character and a lively background cast. The setting is atmospheric and the action delightfully unbelievable. Gaiman paints humanity in a rather dark light and is not afraid to suggest that bad things happen – Bod will never have everything he wants – but the story ends on a note of hope and with a definite sense of closure. Unlike so many children's books, this is not part of a series and is all the better for it. The central storyline winds through the tales, but the real interest is in the mini stories, the chapters, especially seeing how Bod interacts with the real world. Dark enjoyment.
Review by yvesjmt
16/06/2015
Delightful short book. The characters are interesting, just not very developed. The settings and plots were inventive as everything by Gaiman. This book was targeted at younger audiences and it shows, but it's s still enjoyable for grown ups. While it's not really fair to compare this to American Gods, since it's a much shorter and childish book, it's unfortunate that I read American Gods first, which set my expectations for my next Gaiman book very high. The emotional connection with the characters of The Graveyard Book just doesn't happen, even though you learn to respect the mysterious Silas. Also, the subject of American Gods is simply much more interesting: ghosts are just curious creatures compared to almighty gods, and this parallels my feelings toward these two books.But I definitely recommend The Graveyard Book for younger readers.My preferred excerpt:"Bob Owens. Brownish hair, a bit too long. Didn't talk much. He was the one who name all the bones of the skeleton in the quiz. Remember?"
Review by soniaandree
16/06/2015
This book was used for my final BA essay (on the 2010 Carnegie award winner), as part of the Open University course EA300 'Children's Literature'. I enjoyed the fantastic story, quite gothic too, as I followed the life learning experience of Nobody Owens, the child hero. The characters are very well drawn, the story is very engaging and the villain is quite predatory, if not so evil (he lives with his grandmother). I hope people enjpoy this book as much as I did, because it has a very optimistic ending and it is just the beginning! Very good read, it should be in children's reading lists.