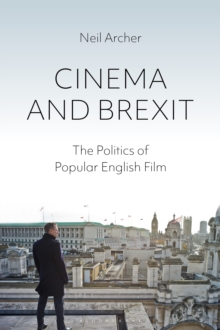 Cinema and Brexit : The Politics of Popular English Film
Hardback
Description
Neil Archer's original study makes a timely and politically-engaged intervention in debates about national cinema and national identity.
Structured around key examples of 'culturally English cinema' in the years up to and following the UK's 2016 vote to leave the European Union, Cinema and Brexit looks to make sense of the peculiarities and paradoxes marking this era of filmmaking.
At the same time as providing a contextual and analytical reading of 21st century filmmaking in Britain, Archer raises critical questions about popular national cinema, and how Brexit has cast both light and shadow over this body of films. Central to Archer's argument is the idea that Brexit represents not just a critical moment in how we will understand future film production, but also in how we will understand production of the recent past.
Using as a point of departure the London Olympics opening ceremony of 2012, Cinema and Brexit considers the tensions inherent in a wide range of films, including Skyfall (2012), Dunkirk (2017), Their Finest (2017), Darkest Hour (2017), The Crown (Netflix, 2016), Paddington (2014), Paddington 2 (2017), Never Let Me Go (2011), Absolutely Fabulous: The Movie (2016), The Trip (2010), The Inbetweeners Movie (2011), Mr. Bean's Holiday (2007), The World's End (2013), Sightseers (2012), One Day (2011), Attack the Block (2011), King Arthur: Legend of the Sword (2017) and The Kid Who Would be King (2019).
Archer examines the complex national narratives and representations these films expound, situating his analyses within the broader commercial contexts of film production beyond Hollywood, highlighting the negotiations or contradictions at play between the industrial imperatives of contemporary films and the varied circumstances in which they are made.
Considering some of the ways a popular and globally-minded English cinema is finding means to work alongside and through the contexts of Brexit, he questions what are the stakes for, and possibilities of, a global 'culturally English cinema' in 2019 and beyond.
Information
Format: Hardback
Pages: 304 pages, 30 bw illus
Publisher: Bloomsbury Publishing Plc
Publication Date: 03/09/2020
Category: Film theory & criticism
ISBN: 9781501351334
Also in the Cinema and Society series | View all