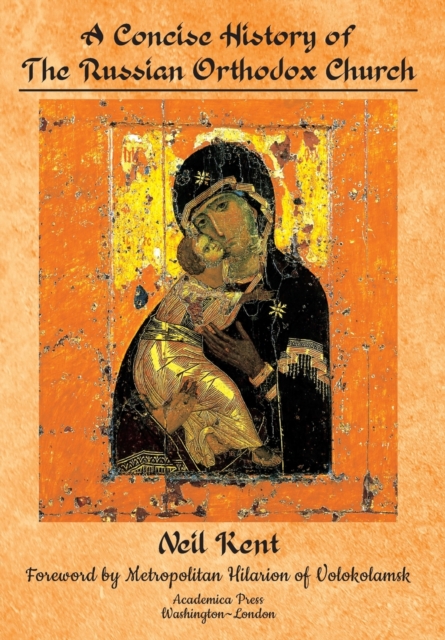 A Concise History of the Russian Orthodox Church
Description
Orthodox Christianity is one of the world's major religions, and the Russian Orthodox Church is by far its largest denomination.
Few know its history and spiritual richness, however.
Neil Kent's comprehensive new book fills that gap.
The Russian Orthodox Church's Eastern roots, including its dogma, canons, and practices, are explored, along with the political and military contexts in which it carried out its mission over the centuries.
Hemmed in between the Catholic powers of pre-Reformation Europe in the West, the Mongol steppe empires to the East, and the Islamic civilizations to the South, Russia and its Church found themselves in a difficult position during the Middle Ages. The Russian Orthodox Church's greatest strength was in the spiritual power of its liturgy, prayerfulness, icons, and monastic life.
But even as the Church consolidated its authority under its own metropolitan, and later patriarch, it came into conflict with political rulers who sought to undermine it.
After defeating foreign challenges, the Church underwent a painful reformation and schism, finally coming under government control.
The Church survived this "Babylonian Captivity," and, in philosophical and spiritual terms, flourished under tsarist rule while still facing rising opposition.
The fall of the monarchy in 1917 led to the Church's brief rejuvenation, but communist rule spelled relentless persecution with little respite at home and a lively émigré church carrying Russian traditions abroad.
In post-Soviet times, however, the Church enjoyed an extraordinary resurrection and, benefiting from the spiritual richness and reunion with the Russian Orthodox Church abroad, once again became a spiritual pillar of the Russian people and a beacon of hope and Christian values, not only in Russia but anywhere it is currently practiced.
Information
Format:
Pages:128 pages
Publisher:Academica Press
Publication Date:30/04/2022
Category:
ISBN:9781680539059
Other Formats
Paperback / softback from £26.95
Information
Format:
Pages:128 pages
Publisher:Academica Press
Publication Date:30/04/2022
Category:
ISBN:9781680539059