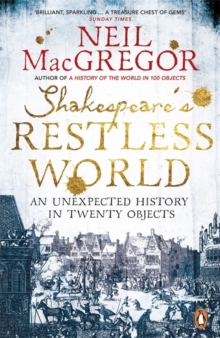 Shakespeare's Restless World : An Unexpected History in Twenty Objects
Paperback
Description
The Elizabethan age was a tumultuous time, when long-cherished certainties were crumbling and life was exhilaratingly uncertain.
Shakespeare's Restless World uncovers the extraordinary stories behind twenty objects from the period to re-create an age at once distant and yet surprisingly familiar.
From knife crime to belief in witches, religious battles to the horizons of the New World, Neil MacGregor brings the past to life in a fresh, unexpected portrait of a dangerous and dynamic era.'Fascinating ... filled with anecdotes and insights, eerie, funny, poignant and grotesque ... another brilliant vindication of MacGregor's understanding of physical objects to enter deep into our fore-fathers' mental and spiritual world' Christopher Hart, Sunday Times'Enjoyable and intriguing, an absorbing evocation ... he draws us into the minds of the Elizabethan and Jacobean audience.
Next time you see one of the plays reading this book will make those first audiences seem real to you' Peter Lewis, Daily Mail'How gripping are these tales from a lost world. And what a world Shakespeare's was - adventurous, melancholy, rich and plagued by beggary, courteous and quarrelsome, sceptical and credulous' Daily Telegraph 'Elegant, informative ... provides stimulating insights' Anne Somerset, Spectator
Free Home Delivery
on all orders
Pick up orders
from local bookshops
Reviews
Showing 1 - 1 of 1 reviews.
Review by edwinbcn
16/06/2015
Shakespeare's restless world. An unexpected history in twenty objects does not offer much new knowledge of Shakespeare's time, but does present many known facts in a very fresh, new way. Not only does the archaeological evidence present a very compelling picture, the images created about Shakespeare's time, particularly his audience are very vivid and completely convincing. Naturally, we can all imagine the audience at the Globe Theatre as a lively company, eating and drinking while watching a play, but the find of a luxury fork to eat sweet meats forces the mental image much stronger. Likewise, we know from Shakespeare's own words that "All the world's a stage", but that his audience took this literally and would carry renaissance Italian-style swords and daggers, emerges from archaelogical finds of such items. Using 20 objects, Neil MacGregor illuminates the world of Shakespeare, giving body to mere ideas, and supporting evidence to theories about life and the theatre during Shakespeare's lifetime. Highly recommended!