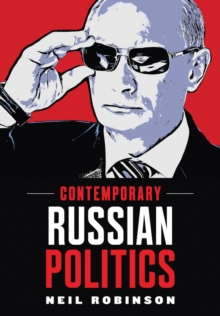 Contemporary Russian Politics : An Introduction
Paperback / softback
Description
Vladimir Putin's return to the Kremlin for a third presidential term in 2012 has seen Russian democracy further weaken and Russia's relations with the West seriously deteriorate.
Yet within Russia Putin's position remains unchallenged and his foreign policy battles have received widespread public support.
But is Putin as safe as his approval ratings lead us to believe? And how secure is the regime that he heads? In this innovative new book, Neil Robinson places contemporary Russian politics in historical perspective to argue that Putin's regime has not overcome the problems that underpinned the momentous changes in twentieth-century Russian history when Russia veered from Tsarism to Soviet rule to post-communist chaos.
Part I outlines why crises have been perennial problems for Russia.
It focusses on the ways that state weakness undermined the USSR and prompted its collapse under Mikhail Gorbachev, and unpacks Boris Yeltsin and Putin's efforts to reconstruct political and state power in Russia.
Part II explores contemporary Russian political institutions and policy to show how Putin has stabilised Russian politics.
But whilst Putin's achievements as a politician have been considerable in strengthening his personal position, they have not dealt successfully with the enduring problem of the Russian state's functionality.
Like other Russian rulers, Putin has been much better at building a political system that supports his rule than he has at building up a state that can deliver material wealth and protection to the Russian people.
As a result, Robinson argues, Russia has been and remains vulnerable to political crisis and regime change.
Information
Format: Paperback / softback
Pages: 304 pages
Publisher: Polity Press
Publication Date: 28/09/2018
Category: Politics & government
ISBN: 9780745631370
Free Home Delivery
on all orders
Pick up orders
from local bookshops