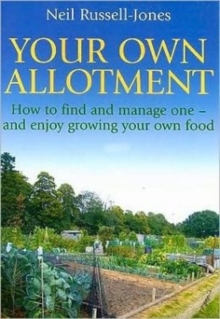 Your Own Allotment : How to find and manage one- and enjoy growing your own food
Paperback / softback
Description
Having your own allotment is an excellent way to ensure that the fruit and vegetables you and your family eat are fresh, organic and actually have flavour.
This book takes you step by step through the process of finding and obtaining your allotment and then offers practical information and tips on starting, and then maintaining your plot.
In three parts it covers all you need to know about: applying for an allotment, preparing the soil, organic principles and planning and laying out your plot; the vegetables, fruits, herbs and flowers you can grow, plus useful shrubs and trees; and. maintaining the allotment, including gardening techniques, pest and weed control, crop rotation, composting, harvesting and storage and tips on maintaining productivity throughout the year. Contents: About the author; Preface; Part 1: Good Grounding - The Basics; 1.
All About Allotments; 2. Our Allotment; 3. Getting Started; 4. Getting to Know Your Soil; 5. Digging; 6. Climate; 7. Understanding the Basics; 8. Tools for you Allotment; 9. Shed and Tool Stores; 10. Organic Principles; Part 2: Know Your Onions - The Plants; 11.
About our Crops; 12. The Life Cycle of a Plant; 13. Plant Families; 14. Brassica - The Cabbage Family; 15. Legumes - The Pea and Bean Family; 16. Solanaceae - Tomato and Potato family; 17. Alliaceae - The Onion Family; 18. Apiaceae - The Celery Family; 19. Asteraceae - The Lettuce or Daisy Family; 20. Cucurbitaceae - The Gourd Family; 21. Chenopodiaceae; 22. Fruit; 23. Perennial Crops; 24. Herbs; 25. Cereals and Grasses; 26. Flowers and Trees; Part 3: Maintaining Your Allotment; 27 Planting; 28. Organic Matter; 29. Dealing with Pests, Diseases and Weeds; 30. Crop Rotation; 31. Protecting Your Crops; 32. Enjoying the Fruits of Your Labour; 33. Food for Free; 34. The Allotment Society - Getting Involved; 35. Allotment Tips; 36. The Allotment Year; Index.
Information
Format: Paperback / softback
Pages: 0
Publisher: Little, Brown Book Group
Publication Date: 19/03/2008
Category: Allotments
ISBN: 9781905862191