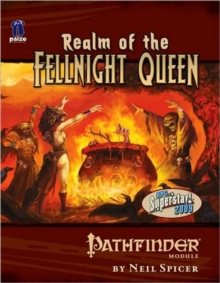 Pathfinder Module: Realm of the Fellnight Queen
Paperback
Description
When a bitter gnome falls on hard times and succumbs to the humiliatingcondition known as the Bleaching, he looks to forbidden magic for answers to hisplight, only to unwittingly release a sinister race of cruel fey imprisoned agesago in the mysterious First World.
Their hateful queen, Rhoswen, now turns hergaze upon the forest town of Bellis, weaving a cloying mist among the trees andsnaring all in a deadly dimension of madness and horror.
Can the playercharacters brave the eldritch mist and stop the queen before she permanentlymakes Bellis part of her domain?
A wilderness adventure for 7th-level Pathfinder Roleplaying Gamecharacters.
Information
Format: Paperback
Pages: 32 pages
Publisher: Paizo Publishing, LLC
Publication Date: 01/01/2010
Category: Indoor games
ISBN: 9781601252241
Free Home Delivery
on all orders
Pick up orders
from local bookshops