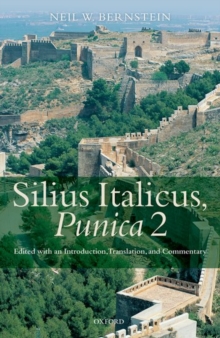 Silius Italicus, Punica 2 : Edited with an Introduction, Translation, and Commentary
Hardback
Description
Silius Italicus' Punica, a Latin epic poem on the second Punic war written at the end of the first century CE, is one of the few Roman historical epics to survive from antiquity.
This volume represents the first full-length scholarly commentary in any language on Book 2 of the seventeen-book epic and accompanies a recent resurgence in scholarly interest in the Punica.
It includes an extensive introduction to the poem's historical and literary contexts, along with the full Latin text and apparatus criticus, English translation, and detailed line-by-line commentary.
The introduction situates Silius in historiographical and literary tradition, while the commentary addresses a broad range of textual, linguistic, literary, and cultural topics.
Discussion of intertextuality focuses especially on the poem's adaptation of earlier epic tradition, including the poems of Homer, Virgil, Ovid, Lucan, Valerius Flaccus, and Statius.
The text and apparatus criticus have been updated since the publication of Josef Delz's Teubner edition of the Punica in 1987 to include a much more comprehensive account of emendation history. The result is a keenly focused and cutting-edge critical edition that will be an invaluable resource for scholars and students of Silius Italicus and the Punica for years to come.
Information
Format: Hardback
Pages: 384 pages
Publisher: Oxford University Press
Publication Date: 27/04/2017
ISBN: 9780198747864
Free Home Delivery
on all orders
Pick up orders
from local bookshops