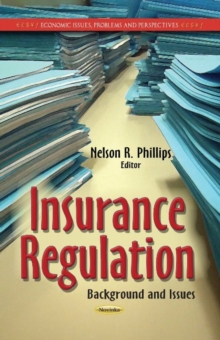 Insurance Regulation : Background & Issues
Paperback / softback
Description
The individual states have been the primary regulators of insurance since 1868.
Following the 1945 McCarran-Ferguson Act, this system has operated with the explicit blessing of Congress, but has also been subject to periodic scrutiny and suggestions that the time may have come for Congress to reclaim the regulatory authority that it granted to the states.
In the late 1980s and early 1990s, congressional scrutiny was largely driven by the increasing complexities of the insurance business and concern over whether the states were up to the task of ensuring consumer protections, particularly insurer solvency.
Immediately prior to the recent financial crisis, congressional attention to insurance regulation focused on the inefficiencies in the state regulatory system.
A major catalyst was the aftermath of the Gramm-Leach-Bliley Act of 1999 (GLBA), which overhauled the regulatory structure for banks and securities firms, but left the insurance sector largely untouched.
Many larger insurers, and their trade associations, had previously defended state regulation but considered themselves at a competitive disadvantage in the post-GLBA regulatory structure.
Some advocated for an optional federal charter similar to that available to banks.
Various pieces of insurance regulatory reform legislation have been introduced, including bills establishing a broad federal charter for insurance as well as narrower, more targeted bills.
This book provides an overview of the background and issues relating to insurance regulation, with a focus on insurance agent licensing; federal charter legislation; the Liability Risk Retention Act; the Dodd-Frank Wall Street Reform and Consumer Protection Act; and surplus lines insurance.
Information
Format: Paperback / softback
Pages: 84 pages
Publisher: Nova Science Publishers Inc
Publication Date: 01/01/2014
Category: Insurance law
ISBN: 9781629481418
Free Home Delivery
on all orders
Pick up orders
from local bookshops