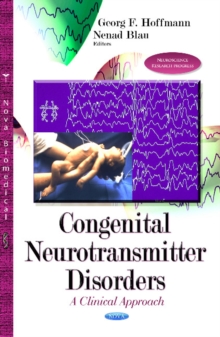 Congenital Neurotransmitter Disorders : A Clinical Approach
Hardback
Description
Congenital neurotransmitter disorders are nowadays recognised as important causes of severe, progressive encephalopathies mostly of early onset.
They are ultraorphan diseases and numerous experiences confirm again and again that diagnosis and treatment of patients is often almost regularly delayed for many years, if ever at all.
Specific therapeutic approaches which can lead to excellent outcomes, especially if instituted early, are thereby withheld from patients and their families.
The diagnosis of these disorders is almost exclusively based on clinical signs and symptoms leading to measurement of metabolites in CSF, specifically the quantitative determination of the neurotransmitters or their metabolites, that is the amino acids glutamate, glycine and GABA, the acidic metabolites of the biogenic monoamines, and tetrahydrobiopterin metabolites.
Important relationships have emerged in disturbances of folate- and vitamin B6-metabolism.
Whilst the majority of the identified disorders are due to inherited enzyme deficiencies, defects in transport of active compounds (transpotopathies) have been reported very recently.
There is however still widespread uncertainty about when to perform specialised CSF investigations and what to investigate, and these services are unavailable in most countries.
The main focus of this book is the clinical approach to these disorders.
We wanted to provide as much detailed information and recommendations on therapy, monitoring and follow-up as possible and hope for quicker and improved therapy for affected individuals.
A further growing awareness of these disorders is needed to allow increased and earlier diagnosis of patients.
Neuropediatricians and neurologists must become more familiar with the broad clinical spectrum of monogenic neurometabolic diseases, the role and place of specialised CSF investigations, and the available therapeutic approaches.
Hopefully this publication will play its part in and expedite this process.
Information
Format: Hardback
Pages: 192 pages
Publisher: Nova Science Publishers Inc
Publication Date: 01/12/2014
Category: Paediatric medicine
ISBN: 9781634630719
Free Home Delivery
on all orders
Pick up orders
from local bookshops