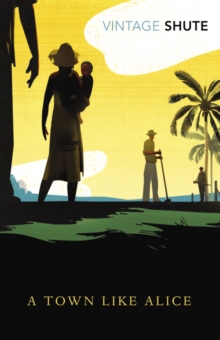 A Town Like Alice
Paperback
Description
WITH AN INTRODUCTION BY ERIC LOMAXJean Paget is just twenty years old and working in Malaya when the Japanese invasion begins.
When she is captured she joins a group of other European women and children whom the Japanese force to march for miles through the jungle - an experience that leads to the deaths of many.
Due to her courageous spirit and ability to speak Malay, Jean takes on the role of leader of the sorry gaggle of prisoners and many end up owing their lives to her indomitable spirit.
While on the march, the group run into some Australian prisoners, one of whom, Joe Harman, helps them steal some food, and is horrifically punished by the Japanese as a result.
After the war, Jean tracks Joe down in Australia and together they begin to dream of surmounting the past and transforming his one-horse outback town into a thriving community like Alice Springs...
Information
Format: Paperback
Pages: 368 pages
Publisher: Vintage Publishing
Publication Date: 03/09/2009
Category: Classic fiction (pre c 1945)
ISBN: 9780099530268
Free Home Delivery
on all orders
Pick up orders
from local bookshops
Reviews
Showing 1 - 1 of 1 reviews.
Review by Bridgey
27/08/2015
A Town Like Alice - Nevil Shute *****I first discovered Nevil Shute a year or so ago when I picked up a copy of 'On the Beach', I loved every page and it has remained in my top five reads and will probably always stay there. Since this I have been slowly working my way through the rest of his 20 plus novels. Unlike most people I have never seen the film of 'A Town Like Alice', so other than the blurb description I didn't really know what to expect.What is it about?We uncover the story of Jean Paget as told to the reader through her Solicitor Noel Strachan. Following the death of his wealthy client a considerable fortune is inherited by Jean in the form of an annual income and a trust fund that will not mature until she reaches her mid thirties. Because of a clause in the will Strachan is able to advance Jean a lump sum should he feel the expenditure is worthy. Once Jean is identified as the benefactor a meeting is arranged between the two which quickly develops into a friendship. Jean tells her tale of how she spent the war as a prisoner on a forced march through Malaya. During this time she encountered a friendly Australian POW who, through his acts of kindness helps her survive. They fall in love but circumstance tears them apart. The rest of the novel details her life in post war years and how she decides to carve out a new future from her newfound wealth.What did I like?Shute always manages to write convincingly of a time that no longer exists, a time when manners and chivalry were abundant. He really drags you into the lives of the characters and allows you to feel their emotions. This book is essentially a love story, the type of genre I would normally run a mile from, but the author manages to make it into so much more than that. When he needs to add effect Shute is not afraid to let you have it with full force. You feel the pain suffered during those prison camp years, you are appalled by the brutality suffered under the Japanese guards, and more than anything you want to right the injustices. The book is set in the 40s/50s and although at times it may seem a little dated, that just adds to its charm.What didn't I like?There wasn't really anything to dislike, but if I was forced to be picky I would say that the 3rd quarter of the book did get slightly repetitive, but this was saved by the ending.Would I recommend it?Definitely, although I still think On the Beach is his greatest novel, this also wouldn't be a bad place to start.