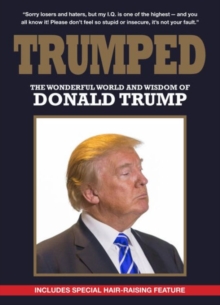 Trumped!
Paperback / softback
Description
Enter the wonderfully whacky world of Donald Trump and within the pages of this book seek words of wisdom from the man of himself.
Donald J. Trump is a force of nature ...and that's only his hair!
The self-made billionaire, reality TV star, GOP candidate and US presidential hopeful, Trump is a veritable walking, talking, media magnet.
Always quotable during his now decades long career, Trump hit new heights when he announced that he was running for president as a GOP candidate in 2015.
Since then it's been a daily barrage of quotes, brinkmanship and one-upmanship ...all of it detailed in this new book.
Trumped: The Wonderful World and Wisdom of Donald Trump is a record for the ages.
Every quotable quote from one of the most quotable men on the planet.
Regardless of Trump's fate as a presidential candidate -when we can all fondly look back and ask, 'What just happened?!'.
Call him 'Trump', 'Droompf' or 'F**ckface Von Clownstick', there is only one Donald J.
Trump. INCLUDES SPECIAL HAIR- RAISING FLICK FEATURE It's freezing and snowing in New York- we need global warming! Twitter, 7 November 2012. My fingers are long and beautiful, as, it has been well documented, are various other parts of my body.
New York Post, 2011 It's like in golf. A lot of people-I don't want this to sound trivial-but a lot of people are switching to these really long putters, very unattractive.
It's weird. You see these great players with these really long putters, because they can't sink three-footers anymore. And, I hate it. I am a traditionalist. I have so many fabulous friends who happen to be gay, but I am a traditionalist.
Commenting on gay marriage, May 2011
Information
Format: Paperback / softback
Pages: 160 pages, BLACK & WHITE LINE DRAWINGS
Publisher: New Holland Publishers
Publication Date: 18/05/2016
Category: Dictionaries of quotations
ISBN: 9781742578965
Free Home Delivery
on all orders
Pick up orders
from local bookshops