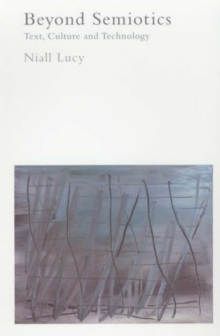 Beyond Semiotics : Text, Culture and Technology
Paperback / softback
Description
Where is semiotics now? As the promised science of the social life of signs in general, semiotics has not been true to its word.
Although well established institutionally today - through specialist journals, research centres, international conferences, professional associations and the like - semiotics seems quaintly out of place in a world where text, culture and technology defy metadisciplinary, if not metaphysical, explanation.
When the semiotician has finished explaining the music of Primal Scream, the textuality of an e-mail message or the culture of the Internet, most would believe there was still much to be said.
A generation ago. the radical humanities scholar turned to semiotics for the last word on news production, cinematic desire or the meaning of youth style.
Today that last word (which is always the latest word too) is more likely to come from cultural studies, literary theory or postmodernism - all of which are in several senses 'beyond' semiotics even while remaining indebted to it.In addition, we annot so easily presume to separate notions of production and desire, or news and cinema, precisely because we can no loner say for sure where the differences lie between notions of text, culture and technology. Beyond Semiotics provides an approach to these three interdependent concepts, in order to show what semiotics has always had to marginalize, forget or not see in the quest to professionalize itself.
Meanwhile, outside the limitation of any discipline, the secular mysteries of text, culture and technology continue to call for a response - with the aim of not laying bare the truth, but of opening up the sign.
Niall Lucy is Senior Lecturer in English at Murdoch University, Australia.
He is author of Debating Derrida (Melbourne University Press, 1995), Postmodern Literary Theory: An Introdcution (Blackwell, 1997) and editor of Postmodern Literary Theory: An Anthology (Blackkwell, 2000).
Information
Format: Paperback / softback
Pages: 160 pages, black & white illustrations
Publisher: Bloomsbury Publishing PLC
Publication Date: 19/07/2001
Category: Semantics
ISBN: 9780826449337
Free Home Delivery
on all orders
Pick up orders
from local bookshops