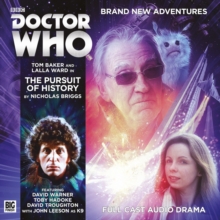 Doctor Who: The Fourth Doctor Adventures - 5.7 the Pursuit of History
CD-Audio
Description
This range of two-part audio dramas stars Tom Baker reprising his most popular role as the Fourth Doctor (from 1974 - 1981) with a number of his original TV companions.
This fifth series reunites the Doctor with Romana (Lalla Ward), a fellow Time Lord for adventures across Time and Space!
On a brisk winter's morning in 1850s Yorkshire, Cuthbert, head of the intergalactic business known as 'The Conglomerate' prepares to hijack a very special train. In the far future, his assistant, Mr Dorrick is awoken by howling alarms.
There is a problem with the Quantum Gateway. In the TARDIS, the Doctor, Romana and K9 detect strange distortions in the Vortex, an energy stream coming from a strange creature called a Laan. The threads of a plan centuries in the making are coming together.
But who is behind this plan? And can anyone possibly escape when history is against them?
The fifth series in a Big Finish range which is hugely popular with fans of the classic TV series Doctor Who.
The pairing of the Doctor and Romana harks back to the most-watched period of Doctor Who, one that to a generation is the most loved and iconic and which broke the records for viewers of the show.Tom Baker's portrayal of the Fourth Doctor Who still tops popularity polls today. He was a special guest in 2013's 50th anniversary story Doctor Who - The Day of the Doctor.
Guest David Warner is a familiar face from a wealth of quality appearances on TV and film - for Sci-Fi fans in particular he's recognised from Star Trek: The Next Generation, Doctor Who, Time Bandits, and two Star Trek movies: though this just scratches the surface of a rich career.Guest David Troughton is the son of the second Doctor actor, Patrick Troughton, and in a long, varied career has appeared on TV in everything from A Very Peculiar Practice to Doctor Who.
CAST: Tom Baker (The Doctor), Lalla Ward (Romana), John Leeson (K9), David Warner (Cuthbert), Toby Hadoke (Mr Dorrick), David Troughton (The Black Guardian).
NOTE: This adventure continues in next month's Doctor Who: Casualties of Time.
Information
Format: CD-Audio
Publisher: Big Finish Productions Ltd
Publication Date: 31/08/2016
Category: Science fiction
ISBN: 9781781787397
Free Home Delivery
on all orders
Pick up orders
from local bookshops
Also in the Doctor Who: The Fourth Doctor Adventures series | View all