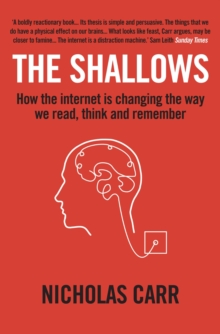 The Shallows : How the Internet is Changing the Way We Think, Read and Remember
Paperback
Description
In this ground-breaking and compelling book, Nicholas Carr argues that not since Gutenberg invented printing has humanity been exposed to such a mind-altering technology.
The Shallows draws on the latest research to show that the Net is literally re-wiring our brains inducing only superficial understanding.
As a consequence there are profound changes in the way we live and communicate, remember and socialise - even in our very conception of ourselves.
By moving from the depths of thought to the shallows of distraction, the web, it seems, is actually fostering ignorance.
The Shallows is not a manifesto for luddites, nor does it seek to turn back the clock.
Rather it is a revelatory reminder of how far the Internet has become enmeshed in our daily existence and is affecting the way we think.
This landmark book compels us all to look anew at our dependence on this all-pervasive technology.
Free Home Delivery
on all orders
Pick up orders
from local bookshops
Reviews
Showing 1 - 1 of 1 reviews.
Review by sueo23
16/06/2015
There appear to be many people happy to call Nicholas Carr a Luddite - I am happy to say I am not one of them. The Shallows, while it does take a position against the Internet and technology, it is not urging us not to use it. Carr is, instead, telling us we need to use our minds in both world. This book is a reminder that technology is a tool, a way of getting somewhere, NOT the destination. He illustrates, through careful use of research and observation, that using the Web on a daily basis IS changing the way our brains process and retain information. It is a scary thought - the Web might be driving the next stage of human evolution. It's scary because while we may control a great deal of the content of the Web, the mechanism is run by others- often large companies with their own agendas. This is a very interesting book that certainly made me re-evaluate my role as a librarian in society. As a provider of information and the means to find it (books AND the Web), I can honestly say this made me sit up and take notice.Highly recommended.