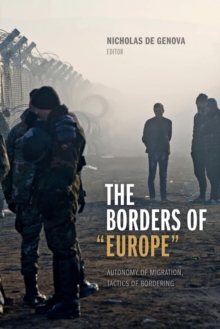 The Borders of "Europe" : Autonomy of Migration, Tactics of Bordering
Paperback / softback
Description
In recent years the borders of Europe have been perceived as being besieged by a staggering refugee and migration crisis.
The contributors to The Borders of "Europe" see this crisis less as an incursion into Europe by external conflicts than as the result of migrants exercising their freedom of movement.
Addressing the new technologies and technical forms European states use to curb, control, and constrain what contributors to the volume call the autonomy of migration, this book shows how the continent's amorphous borders present a premier site for the enactment and disputation of the very idea of Europe.
They also outline how from Istanbul to London, Sweden to Mali, and Tunisia to Latvia, migrants are finding ways to subvert visa policies and asylum procedures while negotiating increasingly militarized and surveilled borders.
Situating the migration crisis within a global frame and attending to migrant and refugee supporters as well as those who stoke nativist fears, this timely volume demonstrates how the enforcement of Europe's borders is an important element of the worldwide regulation of human mobility. Contributors. Ruben Andersson, Nicholas De Genova, Dace Dzenovska, Evelina Gambino, Glenda Garelli, Charles Heller, Clara Lecadet, Souad Osseiran, Lorenzo Pezzani, Fiorenza Picozza, Stephan Scheel, Maurice Stierl, Laia Soto Bermant, Martina Tazzioli
Information
Format: Paperback / softback
Pages: 376 pages, 18 maps
Publisher: Duke University Press
Publication Date: 15/09/2017
Category: Migration, immigration & emigration
ISBN: 9780822369165
Free Home Delivery
on all orders
Pick up orders
from local bookshops