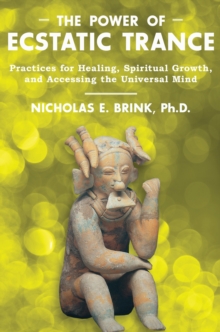 Power of Ecstatic Trance : Practices for Healing, Spiritual Growth, and Accessing the Universal Mind
Paperback / softback
Description
Over the millennia, shamanic trance journeying has been used as a way of healing, of providing answers to questions and of offering solutions to individual, family and community problems.
Though traditionally it was the shaman of the community who went on such journeys, the revolutionary work of the late anthropologist, Felicitas Goodman, shows that we all have these shamanic powers.
Her research on the body postures found in ancient primitive art and in the practices of contemporary shamans offers each of us the ability to experience ecstatic trance journeys firsthand.
A student of Felicitas Goodman and Belinda Gore, psychologist, Nicholas Brink, examines more than 20 traditional trance postures for divination, decision making, letting go of guilt and grief, healing of illness and emotional pain, spirit journeys, shape-shifting, interacting with animal spirits and the dead and discovering past lives.
Exploring the physiology and psychology of ecstatic journeying, he offers guidance for those with little or no experience as well as methods for longtime practitioners to deepen their practice and reclaim the extrasensory power of our ancient ancestors.
Offering solid theories of how ecstatic trance triggers healing and spiritual development, Brink explains how trance journeying allows us to tap in to the collective unconscious or Universal Mind and access the information matrix of the Akashic field. * Describes more than 20 ecstatic trance postures for healing, divination, spirit journeys, shape-shifting, past-life recovery, and connecting to the Akashic field * Explores the physiology and psychology of ecstatic trance journeying* Provides guidance for those with little or no experience as well as methods to deepen practice
Information
Format: Paperback / softback
Pages: 288 pages
Publisher: Inner Traditions Bear and Company
Publication Date: 23/02/2013
Category: Shamanism, paganism & druidry
ISBN: 9781591431527
Free Home Delivery
on all orders
Pick up orders
from local bookshops