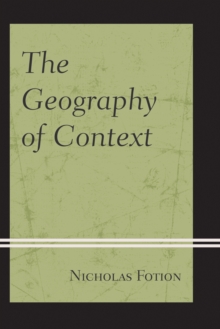 The Geography of Context
Paperback / softback
Description
When we use language, we presuppose many different things.
Context is another name for these presuppositions. But it also can be the name of all these different presuppositions ordered in a certain way.
This study of context focuses on the differences since many studies of context focus excessively on usage found in the sciences and in everyday observations.
Other uses such as promising, giving directions, evaluating (i.e., ranking) all sorts of things around us, expressing our feelings, and issuing declarations (e.g., "You are promoted") are equally important.
The analogy of `geography,' as used in this study, suggests that one important way to study context is to attend to all, not just one, of the "continents" found in the "planet" that we call context. Once we learn our geography lesson, we come to a better understanding of how context can change, how it can be ordered, and how it can be examined. We also learn how layered, and thus how complicated it is.
Information
Format: Paperback / softback
Pages: 120 pages
Publisher: University Press of America
Publication Date: 09/01/2019
Category: Philosophy of language
ISBN: 9780761871033