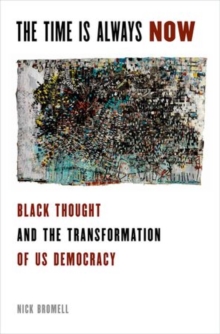 The Time is Always Now : Black Political Thought and the Transformation of US Democracy
Hardback
Description
It is widely accepted that the liberal project in America, which was so powerful for most of the twentieth century, has been in crisis for decades. Voters have rebelled against it, the right built its resurgence on antipathy to liberalism, and even the left played a part in its demise.
In short, it has died by a thousand cuts. But even as its fortunes in public life and the world of politics declined, there was a renaissance in liberal political theory andphilosophy, where sophisticated defenses of and rationales for liberalism came to dominate the field. Why did a re-energized defense of liberalism, especially in the works of Robert Putnam, Michael Sandel, Robert Bellah, and John Rawls (to name four), fail to take hold?
There have been many answers onoffer for liberalism's anemic approval ratings, but as Nick Bromell shows in The Time is Always Now, we may have been looking in the wrong places and using the wrong defenses for liberal democracy.
Focusing on the long history of black political participation and protest, Bromell contends that it offers object lessons for liberalism.
From the 1830s to the present, black intellectuals have almost necessarily identified with the subjugated and demanded that every person's inherent dignity be recognized. Despite the fact that this tradition has lasted nearly two centuries, political philosophers have mostly ignored it as an inspiration for reconstructing democracy on more egalitariangrounds.
Bromell argues that blacks' reflections on their painful experience and their ability to advocate for people 'both black and more than black' (an Obama quote) provides us with the foundation for constructing a democracy that is less angry and more welcoming of a cosmopolitan polity.
While this isnot a history book, Bromell comes out of an American studies tradition that insists on the importance of historical and social context in shaping ideas. Concise yet sweeping in scope, Black and More than Black will force people who think hard about democracy to incorporate the insights of black Americans over time, from James McCune Smith to W.E.B.
DuBois to Barack Obama.
Information
Format: Hardback
Pages: 200 pages
Publisher: Oxford University Press Inc
Publication Date: 17/10/2013
Category: Black & Asian studies
ISBN: 9780199973439
Also by Nicholas K. Bromell
Also in the Transgressing Boundaries: Studies in Black Politics and Black Communities series | View all