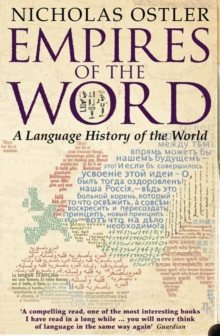 Empires of the Word : A Language History of the World
Paperback
Description
An unusual and authoritative 'natural history of languages' that narrates the ways in which one language has superseded or outlasted another at different times in history.The story of the world in the last five thousand years is above all the story of its languages.
Some shared language is what binds any community together, and makes possible both the living of a common history and the telling of it.Yet the history of the world's great languages has rarely been examined. `Empires of the Word' is the first to bring together the tales in all their glorious variety: the amazing innovations - in education, culture and diplomacy - devised by speakers in the Middle East; the uncanny resilience of Chinese throughout twenty centuries of invasions; the progress of Sanskrit from north India to Java and Japan; the struggle that gave birth to the languages of modern Europe; and the global spread of English.Besides these epic achievements, language failures are equally fascinating: why did Germany get left behind?
Why did Egyptian, which had survived foreign takeovers for three millennia, succumb to Mohammed's Arabic?
Why is Dutch unknown in modern Indonesia, given that the Netherlands had ruled the East Indies for as long as the British ruled India?As this book engagingly reveals, the language history of the world shows eloquently the real characters of peoples; it also shows that the language of the future will, like the languages of the past, be full of surprises.
Free Home Delivery
on all orders
Pick up orders
from local bookshops
Reviews
Showing 1 - 4 of 4 reviews.
Review by fist
16/06/2015
This book takes a meta-meta-level analysis on "A History of World Languages" (which would have been a more accurate title), looking at languages that have dominated large swathes of the earth for the last 4000 years, and the reasons behind that dominance, be they political, economical, social or other. The author then tries to identify common features of the success and eventual decline of these languages, finally applying these factors to a forecast for the current dominance of English.It is clear that the author is deeply knowledgeable on Akkadian, Sanskrit, Nahuatl and Latin, and inevitably some other languages (such as Russian, and the Germanic and Turkic languages) receive a more superficial treatment than they would deserve. The author moves onto noticeably thin ice when he moves out of his area of specialisation and speculates about current or future economic trends (eg concerning Asia), or when he postulates the demise of Russian as a lingua franca because the Central Asian republics speak mutually intelligible Turkic languages (thereby ignoring the fact that the mutually intelligible vocabulary denotes day-to-day matters, and that specialised vocabulary has been created later, from Arab, Persian or Russian sources or by creating neologisms. As a result, these republics predominantly still communicate in Russian with each other, and Russian as lingua franca is still very much alive and well). The author neatly summarises every chapter at its conclusion, which may give some readers an impression of being condescended to (but in any case is to be preferred to excessively hermetic texts or ramshackle trains of thought).Otherwise, a well-written book and deeply researched that adds a much-needed high-level analysis to the "languages" bookshelf. A keeper, to be consulted again and again.
Review by 100yards
16/06/2015
Review by krista.rutherford
16/06/2015
If you, like me, are interested in linguistics and big-picture world history, this is the book. Looking at the history of world powers not in terms of political boundaries but of groups defined by common languages reveals a lot about where power truly lay and how different peoples identified themselves and influenced each other.
Review by DinadansFriend
16/06/2015
I think this a superior production, and Mr. Ostler seems to know his business. There are even some hints about how a tongue can connive towards its own longevity.