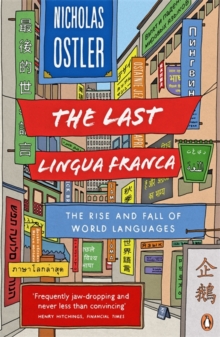 The Last Lingua Franca : The Rise and Fall of World Languages
Paperback
Description
A revelatory and exhilarating tour de force, Nicholas Ostler's The Last Lingua Franca: The Rise and Fall of World Languages explores the rise of a linguistic diversity we could never before have imagined. In the twenty-first century, can we really take the dominance of English for granted? In their time, Greek, Latin, Arabic, Sanskrit and Persian have each been world languages, sweeping the globe for centuries at a time. And yet they have all been displaced, just as Nicholas Ostler predicts English will be.
What forces drive these linguistic currents? What characteristics do lingua francas share? And most importantly, how do they lose their power? 'Frequently jaw-dropping and never less than convincing' Henry Hitchings, Financial Times 'Sweepingly learned and engagingly garrulous' Sunday Times 'A much-needed challenge to conventional wisdom' Guardian A linguist of astonishing voracity ... the predictions are striking' Economist Nicholas Ostler is the author of Empires of the Word: A Language History of the World and Ad Infinitum: A Biography of Latin.
He studied Greek, Latin and Philosophy at the University of Oxford and holds a Ph.D. in Linguistics from MIT. With a working knowledge of twenty-six languages, Nicholas now runs an institute for the protection of endangered languages.
Free Home Delivery
on all orders
Pick up orders
from local bookshops
Reviews
Showing 1 - 2 of 2 reviews.
Review by Shimmin
16/06/2015
This book's about <i>linguas franca</i> and the ideas about English remaining as an eternal world language, or being overtaken by Chinese or what-haveyou. It's decent enough, but I've got to say I couldn't quite fathom the intended readership. It's really pretty dense as a piece of pop linguistics (I've read my share) but it's clearly not a textbook either. It goes into quite a lot of historical detail, and throws in lots (really, really lots) of linguistic examples throughout, which is excellent scholastic practice but does make it pretty heavy unless you're really into those languages and cultures - there's a very long section about Persian and mid-Eurasia, for example, which most people in the West (like me) are utterly ignorant about, so that was heavy going. I'm not really sure what I think would improve it, though - it's just in a slightly odd niche. I'm glad I've read it, and I agree broadly with the book's conclusions, though I've got to say I didn't really feel like there was a strong thread of argument running through the book - it's more a patchwork most of the time, but then it's social and cultural linguistics, not physics. So, broadly, it's worth a look, but be aware it's slightly genreless and you'd probably do best to just flick through it and focus on the bits you're most interested in, rather than trying to soak in everything.
Review by shanaqui
16/06/2015
My interest in languages and lingua-francas should be obvious. I'm a Welsh person who grew up in England and only really discovered my own country's culture when living there, doing a course in Welsh literature, through the medium of English (and it doesn't escape me that I did this module on a course called <I>English</I> Literature). I don't speak my mother-tongue -- and Welsh should've been my mother-tongue: only a generation ago, all my family spoke it and didn't learn English until secondary school; that, and Welsh has words for things I feel for which there is no English translation (<I>hiraeth</I>). Then there's the fact that the person I'm showing every sign of spending my life with is actually speaking to me in her third language, and finds my attempts at speaking French laughable and would probably wince if I tried to pronounce Dutch. Meeting her family, we use English as a lingua-franca in practice, and I even bought this very book, in English, in a bookshop in Brussels.<br/><br/>Unfortunately, despite all that interest and my academic background to boot, I found this book very dense and dry. Statistics and technicalities abound; the influence of colonialism and imperialism acknowledged but not considered as much as I'd like. It's an interesting topic, although I'm not sure about some of the ideas (can machine translation ever really replace human translation? Having done translation work from French, Anglo-Saxon and Icelandic, myself -- hell no!). Execution is just a bit dull if statistics and such aren't your thing. The historical stuff is interesting, though.