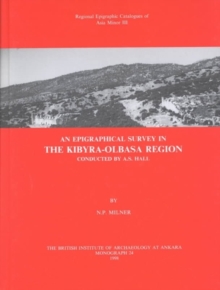 An Epigraphical Survey in the Kibyra-Olbasa Region conducted by A S Hall
Hardback
Description
The Kibyra-Olbasa region, in the uplands of south-west Anatolia, was home to a mixture of people - Kabalians, Milyans, Pisidians and others - while the city of Kibyra spoke four languages: Lydian, Solymian, Pisidian and Greek.
This volume presents (with text, translations and brief commentary) some 160 ancient stones and inscriptions recorded by the late Alan Hall in 1984 and 1985 which attest to the influence of the Hellenistic and Roman kingdoms.
Over one hundred are previously unpublished, others fully revised.
A companion volume is being prepared by G H R Horsley and R A Kearsley.
Information
Format: Hardback
Pages: 127 pages, 23 b/w pls
Publisher: British Institute of Archaeology at Ankara
Publication Date: 01/12/1998
Category: Asian history
ISBN: 9781898249108