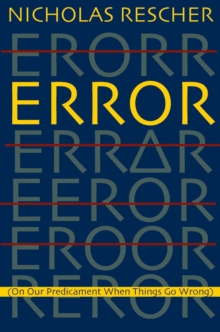 Error : On Our Predicament When Things Go Wrong
Paperback / softback
Description
In ""Error"", Nicholas Rescher presents a fresh analysis of the occurrence, causality, and consequences of error in human thought, action, and evaluation.
Rescher maintains that error-avoidance and truth-achievement are distinct but equally important factors for rational inquiry, and that error is inherent in the human cognitive process (to err is human).
He defines three main categories of error: cognitive (failure to realize truths); practical (failure related to the objective of an action); and axiological (failure in evaluation), and articulates the factors that contribute to each.
His discussion also provides a historical perspective on the treatment of error by Greek philosophers and later thinkers such as Aquinas, Descartes, Spinoza, Leibniz, James, Royce, Moore, and Russell. ""Error"" is an important reexamination of the significance of error to the fields of philosophical anthropology, epistemology, ontology, and theology.
As Rescher's study argues, truth and error are inexorably intertwined - one cannot exist without the other.
Error is an unavoidable occurrence in the cognitive process - without missteps on the path to truth, truth itself cannot be attained.
Information
Format: Paperback / softback
Pages: 128 pages, illustrations
Publisher: University of Pittsburgh Press
Publication Date: 15/02/2009
Category: Philosophy
ISBN: 9780822960119
Free Home Delivery
on all orders
Pick up orders
from local bookshops