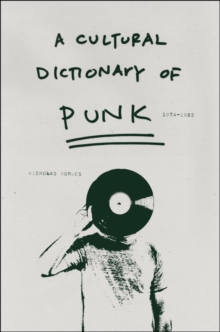 A Cultural Dictionary of Punk : 1974-1982
Paperback / softback
Description
This is a fascinating guide to a critical time in music and cultural history. "A Cultural Dictionary of Punk" is a bold book that examines punk as a movement that is best understood by placing it in its cultural field.
It contains myriad descriptions of the sounds of the time, but also places those sounds in the context of history.
Drawing on hundreds of fanzines, magazines, and newspapers, the book is - in the spirit of punk - an obsessive, exhaustively researched and sometimes deeply personal portrait of the many ways in which punk was an expression of defiance.
The format consists of distinct entries on everything from Lester Bangs to The Slits, from Jimmy Carter to Minimalism, from 'Dot Dash' to Bad Brains.
Both highly informative and thrillingly idiosyncratic, the book takes a fresh look at how the malaise of the 1970s offered fertile ground for punk - as well as the new wave, post-punk, and hardcore - to emerge as a rejection of the easy platitudes of the dying counter-culture.
The organization is accessible and entertaining. Rombes upends notions that the story of punk can be told in a chronological, linear fashion. Meant to be read straight through or opened up and experienced at random, "A Cultural Dictionary of Punk" covers not only many of the well-known, now-legendary punk bands, but the obscure, forgotten ones as well.
Information
Format: Paperback / softback
Pages: 320 pages, 120 bw illustrations
Publisher: Bloomsbury Publishing PLC
Publication Date: 27/08/2009
Category: Rock & Pop music
ISBN: 9780826427793