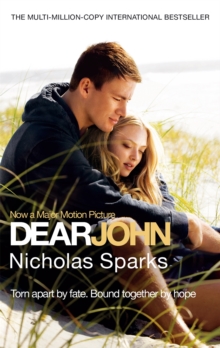 Description
Is duty enough reason to live a lie?When John meets Savannah, he realises he is ready to make some changes.
Always the angry rebel at school, he has enlisted in the Army, not knowing what else to do with his life.
Now he's ready to turn over a new leaf for the woman who has captured his heart.What neither realises is that the events of 9/11 will change everything.
John is prompted to re-enlist and fulfil what he feels is his duty to his country.
But the lovers are young and their separation is long.
Can they survive the distance?
Information
Format: Paperback
Pages: 368 pages
Publisher: Little, Brown Book Group
Publication Date: 01/11/2007
ISBN: 9780751539264
Other Formats
Paperback from £7.85
EPUB from £4.99
Free Home Delivery
on all orders
Pick up orders
from local bookshops
Reviews
Showing 1 - 3 of 3 reviews.
Review by mausi21
16/06/2015
Omg how sad. Somehow I was hoping for a different ending but at the same time, it ended just the way it had to... *sigh*
Review by tonile.helena
16/06/2015
So here's the thing about Nicholas Sparks: he has great ideas, but struggles to turn them into wonderful works of fiction. This is a definite case of movies being better than books, although I can't say I'm inclined to see the movie. His writing style isn't particularly refined and I can't tell if that's because he's writing from the perspective of someone, or that's just how he writes. Either way I was really excited to read this book and sadly it wasn't as good as I'd hoped.
Review by sunnycouger
16/06/2015
I read this book because the film is coming out soon and I have this weird compulsion to read the book that any film I want to watch may be based on before I see the film. It's something I've always tried to do, but I gotta say, this might make me change the trend.<br/><br/>I am in love with John. Seriously - he is such a wonderful character and I am so, so, so depressed that nothing went right for him. That he lost the woman he loved (we'll get to her later), that he lost his father and was left with nothing - no home, no collection of coins that his father wanted passed down to him and nothing he deserved in life.<br/><br/>I get that sometimes good people don't get what they deserve but FFS, he had to deserve good something, right?<br/><br/>I alternated between kinda liking Savannah (just didn't warm to her that much) and loathing her - her first letter made me like her, and although I knew she was going to break up with him in the giveaway 'Dear John' letter, I just...I was heartbroken when he was in Iraq and read that letter. I just wanted to strangle her for her cruelty. Then when he went back, the absolute selfishness of her - someone who wanted it all. Who unloaded on him even though his father who just died, who guilted him with the talk of money and everything, who wanted her husband and the fairytale. Who didn't give a fuck about what she was doing to John just as long as she felt better, because in Savannah's world it's all about Savannah and what she thinks and what she wants and I just...gah! She didn't deserve John or Tim and although Tim was, I'm sure, a nice guy, I still couldn't forgive the fact that he and Savannah cheated on John, and I couldn't forgive the guilt-trip Tim laid on him in the hospital. How dare he ask John to look after Savannah and his brother after what they had done? I get it - they were such good people and all that crap and couldn't help falling in love and blah de blah blah but, God, at what point was anyone going to stop thinking about themselves?<br/><br/>Gah - it just pissed me off. I was so heartbroken for John and I just wanted so much more for him and I was glad that Savannah walked out the door at the end. It lets me think that she knows she screwed up, that she understands she'll never really be that happy with the decision she made. It lets me imagine the scenario of one day her coming across a happily married John and knowing she brought it on herself.<br/><br/>So yeah, I think I'm going to be watching the film needing a whole box of hankies and possibly a gag in order to avoid wanting to yell to abuse Savannah when she sends the letter. ;)<br/><br/>Good book, just...I don't know, I just wanted more for John. But I guess the moral of the tale is that sometimes you don't get what you deserve. Sometimes there's not much you can do accept roll with whatever punches get thrown your way. Sometimes people are fickle and self-serving, and sometimes you get left behind no matter how hard you try and hold onto it.<br/>