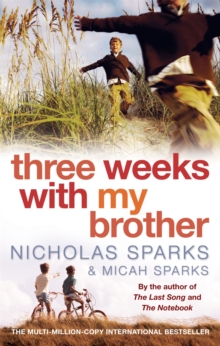 Three Weeks with My Brother
Paperback
Description
The story of two brothers deeply bound by love and tragedy and an extraordinary chronicle of a life-affirming tripIn January 2003 Nicholas Sparks and his brother Micah set off on a three-week trip around the world.An adventure by any measure, this trip was especially meaningful as it marked another milestone in the life journey of two brothers who, by their early thirties, were the only surviving members of their family.
As Nicholas and Micah travel the globe, from the Taj Mahal to Machu Picchu, the story of their family slowly unfolds.
Just before Nicholas' marriage he and Micah lost their mother in a horseriding accident; a week short of Nicholas' triumphant debut as a novelist with THE NOTEBOOK, the brothers lost their father to a car crash, and just a few short years later they were forced to say goodbye to their sister who died of brain cancer at the young age of 36.
Against the backdrop of the main wonders of the world the brothers come together to heal the wounds of this tragic legacy and maintain their determination to live life to its fullest.
Information
Format: Paperback
Pages: 384 pages
Publisher: Little, Brown Book Group
Publication Date: 02/02/2006
Category: Travel writing
ISBN: 9780751538410
Free Home Delivery
on all orders
Pick up orders
from local bookshops
Reviews
Showing 1 - 1 of 1 reviews.
Review by bermudaonion
16/06/2015
In 2002, Nicholas Sparks received a pamphlet in the mail from Notre Dame, his alma mater, about a three week, around the world trip they were sponsoring. The trip looked wonderful, and Nicholas couldn't get it out of his mind. He knew that he and his wife couldn't go, since they had five small children, so he decided to invite his brother. In January and February 2003, the Sparks brothers – Nicholas and Micah embarked on the journey of a lifetime.In Three Weeks With My Brother, Nicholas and Micah open each chapter with a story from their trip that made them reminisce about their past. Since their father was a student when the Sparks children (Micah, Nicholas and Dana) were born, they were poor for most of their childhood. Nicholas didn't know that milk came in a liquid form until he started school. Their mother was vibrant, charismatic and loving, but she raised her children with few rules, causing them to grow up very close. The family had to move several times over the years and the moves were always much easier for outgoing Micah than they were for introspective Nicholas. Nicholas and Micah have had more than their share of tragedies in their lives, but they've also had great triumphs and have learned to appreciate the small things in life.I found this book to be very readable, enjoyable and emotional. I never knew how driven and hard working Nicholas is. He received a track scholarship to Notre Dame, but he's the first to admit that he's not a natural athlete, but a very hard working one. Nicholas and Micah are very close and they're both family men – dedicated to their wives and their children. From the emotion that comes through in this book, I get the feeling that Nicholas writes from the heart. I recommend this book to all Nicholas Sparks fans and those who enjoy memoirs.