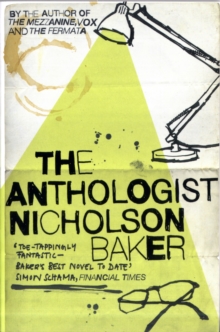 The Anthologist
Paperback
Description
The Anthologist, is narrated by Paul Chowder, a poet of some little reknown who is sitting in his barn most of the time trying to write the introduction to a new anthology of poetry called Only Rhyme.
He's having a hard time getting started because his career is falling apart, his girlfriend Roz has recently left him, and he is thinking about the poets throughout history who have suffered far worse and actually deserve to feel sorry for themselves.
He has also promised his readers that he will reveal many wonderful secrets and tips and tricks about poetry, and it looks like the introduction will be a little longer than he'd thought.
What unfolds is a wholly entertaining and beguiling love story about poetry, among other things; Paul tells us about all of the great poets, from Tennyson, Swinburne, and Yeats to the moderns (Roethke, Bogan, Merwin) to the contemporary scene as well as the editorial staff of The New Yorker's editorial department. And what he reveals about the rhythm and music of poetry itself is astonishing and makes you realize how incredibly important poetry is to our lives.
At the same time, Paul manages just barely to realize all of this himself and what results is a tender, wonderfully romantic, often hilarious, and inspired novel.
Information
Format: Paperback
Pages: 256 pages
Publisher: Simon & Schuster Ltd
Publication Date: 05/08/2010
ISBN: 9781847397829
Free Home Delivery
on all orders
Pick up orders
from local bookshops
Reviews
Showing 1 - 2 of 2 reviews.
Review by madcurrin
16/06/2015
I loved this book, it's a little treasure. It doesn't matter that The Anthologist meanders along like no novel ever should and that the plot goes pretty much nowhere. Every page crackles with the joy of writing. Nicholson Baker gets inside the head of a writer and gives an entertaining masterclass in the art of rhyme while he's at it. All writers should read this, poets or otherwise.
Review by flydodofly
16/06/2015
About poetry anthologies: "You have to read the unchosen ones to understand the chosen." I am seriously considering writing down the poets' names and going after all the wonderful poems out there. One forgets to read poems. Prose is so much more available and digestable, and one tends to think: I have to be in a special mood for poems. Strong enough to take the life in this concentrated form, while still vulnerable and open enough to allow yourself to feel the intensity.I loved the book. It was quirky and funny and sad and had great yet undramatic things in it and my favourite were the endings of a section, where Baker suddenly changes the subject in a very "poetic" kind of way. It was a very enjoyable read, and it gave me lots and lots of new ideas which I would like to start exploring."And that's what poetry gives me. Many, many beginnings."