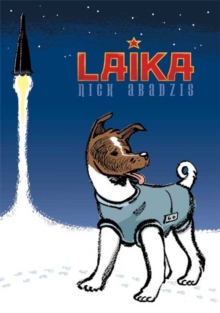 Description
Laika was the abandoned puppy destined to become Earth's first space traveler.
This is her journey.Nick Abadzis masterfully blends fiction and fact in the intertwined stories of three compelling lives.
Along with Laika, there is Korolev, once a political prisoner, now a driven engineer at the top of the Soviet space program, and Yelena, the lab technician responsible for Laika's health and life.
This intense triangle is rendered with the pitch-perfect emotionality of classics like Because of Winn Dixie, Shiloh, and Old Yeller.
Abadzis gives life to a pivotal moment in modern history, casting light on the hidden moments of deep humanity behind history.
Laika's story will speak straight to your heart.Laika is the winner of the 2008 Eisner Award for Best Publication for Teens and an Eisner Award nominee for Best Reality-Based Work.
Information
Format: Paperback
Pages: 208 pages, 208 colour illustrations
Publisher: Roaring Brook Press
Publication Date: 04/09/2007
Category: Science fiction
ISBN: 9781596431010
Free Home Delivery
on all orders
Pick up orders
from local bookshops
Reviews
Showing 1 - 5 of 20 reviews.
Previous | Next
Review by MaowangVater
16/06/2015
A dog story set in the early days of the cold war space race, ending sadly, as many dog stories do with the demise of the main character and the grief of his human companions. Pressured for another spectacular launch to add to the propaganda success of Sputnik I, soviet scientists launch a dog into orbit with no plan for her return.In this well researched piece of historical fiction author and illustrator Abadzis adds an imagined early life for the dog Laika. This deepens the emotional impact of his graphic novel and forces the reader to consider the ethics of such animal experimentation.
Review by delzey
16/06/2015
When I heard about this project the first question that crossed my mind was "How do you make the story of the first dog in space interesting?" My second question was "And would young readers even care?"I'll elaborate on the first in a moment, but the answer to the second question is a firm and resounding "probably not" but that has more to do with a general lack of interest in the space program and nothing to do with this book.What Abadzis does is completely round out the story leading up to the launch of Laika the canine cosmonaut including the lives of those around her. Laika gives us the backstory on Sergi Pavlovich, the "chief designer" behind the Russian space program responsible for Sputnik. The story begins with Pavlovich leaving the gulag where he was once one of Stalin's political prisoners mumbling "I am a man of destiny." Saying this enough time in double-digit-below-zero temperatures becomes the mantra that saves him until a sound -- and the moon -- appear to guide him towards his salvation.Flash ahead years later where we're given a brief insight into triumphant launch of Sputnik, the little satellite that launch a superpower race toward space. Premiere Kruschev is impressed with success of the satellite and requests that the Chief Designer push forward to another historic launch in time for the national holiday a month down the road. An impossible task, but our man of destiny will not fail and he calls his team back from vacation to make it happen.Drop back a few years to a scene in a Russian household where among a little of puppies is a "special" runt with a curly tail. This runt is, of course, the future Laika and she moves about as if she has a destiny of her own. Taken in as a young boys punishment (she is meant to teach him responsibility) she spends much of her time alone in a hall closet, patiently waiting to be understood and loved. When the boy attempts to ditch the dog in the river she falls in with a street dog that shows her how to survive the lean streets. Eventually she is caught and sent to a special research facility that is raising dogs for a special government program.Here in the dog kennels we meet his handler, a young female apparatchik who is finding it hard to separate her scientific background with her love of her charges. She has come to recognize all the dogs in her care by their character, their strengths and weaknesses, and it's clear that she recognizes in Laika those same special qualities that all with eyes eventually see. Her patience, her loyalty, her trust in those worth trusting, make her the ideal candidate for her vigorous training program. As it becomes clear what Laika will be used for the scientists begin to have misgivings. Even Pavlovich is uneasy about the fact that in order to guarantee a successful launch for Kruschev he must send Laika up with no plan for retrieval. She is a dog of destiny.What Abadzis does in the end is create a story so rich that the reader will have a difficult time separating out the fact from the fiction. It is not impossible to believe what the dogs are thinking and dreaming because Abadzis has done his job of treating them as equal to humans. He includes supporting documentation at the end of the book but none of it (from what I can tell) is the true life story of Laika, and certainly not her autobiogrpahy. There is the ring of truth to every panel, so much so that I initially thought it might be eligible for the Siebert Award until my boss reminded me that the award went to books that were entirely non-fiction. Oh, yeah. That would preclude elements like talking dogs and unverifiable conversations -- or would it?Up to now I have left out a crucial bit of information: this is a graphic novel. It almost shouldn't make a difference and I left that bit of information out from the beginning deliberately. The question has come up about how one is supposed to review a graphic novel without showing pictures of the work. The answer is already out in the form of printed music reviews and reviews of gallery openings. True, for the casual review those items appear in print with either photos to document the work or with references to other shared cultural knowledge that a reader can draw conclusions and inferences from. But it is possible to discuss the graphic novel in terms of it's content and never talk about the art; not because the art isn't worth mentioning but because the graphic novel is no more successful than any other media without a good story to hang it's decoration on.Ultimately, I'm not sure who the audience for this book is, but I know that they will be richly rewarded for their interest.
Review by abbylibrarian
16/06/2015
Just a warning: the dog dies. Be prepared. <i>Laika</i> is the story of the first dog in space. This fictionalized account is based on lots of research, including information that was only revealed long after the Cold War was over. It's a very involving graphic novel and a basic knowledge of the Cold War and/or the Space Race is helpful in reading this book. I knew nothing about space dogs before and I think it's a very interesting topic. I'd recommend it to kids old enough to have learned a little about the Cold War (and who don't mind a SAD story).
Review by dr_zirk
16/06/2015
Nick Abadzis' <i>Laika</i> took me by surprise - I was expecting the sort of mawkish melodrama that one usually associates with "dog stories" in western culture, but I found quite a bit more in these pages. That is not to say that Abadzis doesn't pull at the heartstrings from time-to-time, but his approach to the story of Laika is altogether more complete and complex than simply dwelling on the fact that the dog died in space. There is enough of the history and the geopolitics of the times included here to really give some context to Laika's story, and Abadzis deserves credit for delivering the full experience to his readers. This book can be enjoyed by history buffs as much as it can be enjoyed by dog lovers, and in truth the appeal is broad enough to capture general readers as well - an excellent job all around.
Review by ohioyalibrarian
16/06/2015
So moving...about the dog the Soviets sent into space. Excellent!