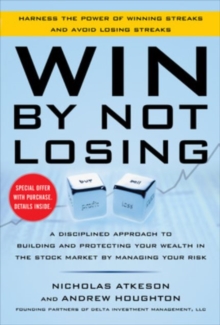 Win By Not Losing: A Disciplined Approach to Building and Protecting Your Wealth in the Stock Market by Managing Your Risk
Hardback
Description
A DISCIPLINED STRATEGY FOR AVOIDING MAJOR DOWN MARKETS AND PARTICIPATING IN BULLISH MARKETSYour financial advisor's strategy to buy-and-hold a diversified equity portfolio sounded good.
Diversification promised to protect your wealth. Now, however, more than a decade of hard data shows it didn't work. And, more than likely after a decade of multiple financial shocks and crashes, your account balance is not what you hoped it would be when you started saving years ago.
Much of your investment life has been spent just trying to make back what was lost. Win By Not Losing reveals how you can make smarter, more profi table investments by first protecting your capital from major bear equity markets.
It also shows you how to identify major bullish equity market trends and guides you on how best to participate.
By avoiding the major downs and catching the ups, your portfolio compounds gains and allows you to achieve your financial goals.Chasing returns leads to the poorhouse. With this book's disciplined system for knowing when to buy, what to buy, and when to sell, you can build and protect your portfolio through active management techniques.
It walks you step-by-step through growing yourportfolio in bull and bear market cycles.
You will master a concrete investing method that lets you trade with emotionless confidence and precision.
Packed with links to online resources and personal tips from successful,high-profile traders, Win By Not Losing gives you everything you need to:Identify the market metrics that are important to building wealthDetect and measure the market signals foreshadowing major movesBuild a portfolio with strong downside protection, full transparency, immediate liquidity, low fees, and incredible risk-adjusted returnsYour portfolio returns will continue to be disappointing unless you act.
It's time to make up for lost profits by taking an active, professional, and nonemotional portfolio management approach to avoid majorlosses and capture gains.
Win By Not Losing provides everything you need to build wealth in today's stock market. Stop watching your money rise and fall without signifi cant net gain with a "buy-and-hold" strategy and optimize your positions as market sentiment changes.
In anonappreciating market, investors must actively manage equities to acquire gains.
Win By Not Losing presents an active approach that uses rigorous risk-management techniques to preserve your wealth and generate high returns in all equity market environments. Prominent authors and lecturers Nick Atkeson and Andrew Houghton have culled the best of their work to help you revitalize your trading habits, protect your capital, and beat the market.
Through real-world stories demonstrating fi nancial theory in action and how-to instructions for executing their strategic investment approach, these expert authors enable you to:Achieve sizable returns through an investment strategyequally focused on when to invest and when to sellAvoid major down markets and fully benefit from major up marketsAccess unique financial information to help you staycurrent, think ahead, and build and protect your wealthWhether you're an independent investor or a professional financial advisor, this refreshing look at investing will change the way you see the markets.
Forget what you know about modern portfolio theory and trade to make money in today's markets with Win By Not Losing."Anyone with some experience in the stock market, especially the person who wants to move beyond a buy and hold strategy, can find useful tidbits in this book."ReadingTheMarkets.com
Information
Format: Hardback
Pages: 288 pages, 15 Illustrations, unspecified
Publisher: McGraw-Hill Education - Europe
Publication Date: 15/10/2013
Category: Stocks & shares
ISBN: 9780071812900
Free Home Delivery
on all orders
Pick up orders
from local bookshops