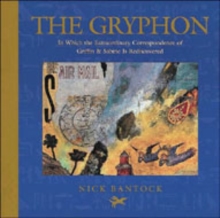 Description
As the remarkable fates of Griffin and Sabine are gradually revealed, we are introduced to Matthew and Isabella, long-distance lovers who find themselves entwined not only in each other's lives, but in an intrigue of mythic proportions.
The correspondence of Griffin Moss and Sabine Strohem, at turns enigmatic, sumptuous, and romantic, reveals dangerous undercurrents and strange forces at work in the universe.
These powers have only grown stronger with the couple's disappearance.
Nothing is heard from them for quite some time, until Sabine asks Matthew Sedon, a young archaeologist working in Egypt, for help.
As Matthew is reluctantly drawn into the intrigue, he finds encouragement from his strong-willed girlfriend, Isabella de Reims.
Miles away in Paris, Isabella struggles with glimpses of fabled landscapes and vivid fantasias that come to her in waking dreams.
Slowly Matthew and Isabella realize that to unlock this secret world is to open the door to their deepest yearnings.
Author and artist Nick Bantock tells a story like no other: as you pull handwritten letters from stamped envelopes, the enchanting world of The Gryphon literally unfolds in your hands.
Information
Format: Hardback
Pages: 64 pages, colour illustrations
Publisher: Chronicle Books
Publication Date: 25/10/2001
ISBN: 9780811831628
Free Home Delivery
on all orders
Pick up orders
from local bookshops
Reviews
Showing 1 - 3 of 3 reviews.
Review by DCArchitect
16/06/2015
A feast for the eyes. A wonderful work of art and immagination every bit as good as Bantock's "Griffin and Sabine."
Review by MrsLee
16/06/2015
Now Matthew and Isabella are added into the correspondence. The story has taken a turn for the weirder. I don't even know how do describe it, but it is lovely to read and I will continue.
Review by engpunk77
27/08/2015
I think Bantock is taking this too far, and it's much less enjoyable as it goes on.