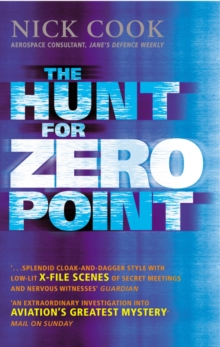 Hunt For Zero Point
Paperback / softback
Description
In 1966 a group of highly respected aerospace engineers revealed that US scientists were perfecting ways to control gravity.
They predicted a breakthrough would come by the end of the decade, ushering in an era of limitless, clean propulsion for a new breed of fuelless transport systems - and weapons beyond our imagination.
Of course it never happened. Or did it? Forty years later a chance encounter with one of the engineers who made that prediction forces a highly sceptical aerospace and defence journalist, Nick Cook, to consider the possibility that America did indeed crack the gravity code - and has covered up ever since.
His investigations moved from the corridors of NASA to the dark heartland of America's classified weapons establishment, where it became clear that half a century ago, in the dying days of the Third Reich, Nazi scientists were racing to perfect a Pandora's Box of high technology that would deliver Germany from defeat. History says that they failed. But the trail that takes Cook deep into the once-impenetrable empire of SS General Hans Kammler - the man charged by Adolf Hitler with perfecting German secret weapons technology - says otherwise.
In his pursuit of the true facts behind Kammler, Cook finally establishes the truth: America is determined to hang onto its secrets, but the stakes are enormous and others are now in the race to acquire a suppressed technology.
Information
Format: Paperback / softback
Pages: 432 pages
Publisher: Cornerstone
Publication Date: 04/07/2002
Category: Weapons & equipment
ISBN: 9780099414988
Free Home Delivery
on all orders
Pick up orders
from local bookshops