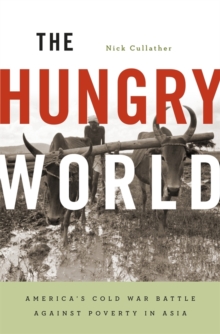 The Hungry World : America's Cold War Battle Against Poverty in Asia
Paperback / softback
Description
Cullather has written an engrossing history of how the United States government, along with private philanthropies like the Ford and Rockefeller foundations, aimed to win the hearts and bodies of rural Asia in the post World War II decades by crafting strategies to develop and modernize agriculture and the peasant's way of life.
He explains how America used foreign aid, modernization theory, nutrition, statistics, and technology, to try to reconstruct the social and political order of the decolonized and disadvantaged countries in the region.
Initially the issue of how best to intervene in Asia's rural countryside was contentious, with clashing visions of development and humanitarian aid being argued throughout the 50's and 60's.
Ultimately, one strategy displaced all the others - the "Green Revolution" and the ability to feed millions through the miracle of genetically designed dwarf strains of grain and rice.
Cullather provides a detailed explanation of how this policy of feeding Asian peasants became the single strategy of "progress' adopted by the US rather than industrialization or land reform. As current controversy swirls about how best to aid Africa in the crisis of nation-building, famine, and a poverty-stricken peasantry, the story of the U.S. interventions in Asia become starkly relevant.
Information
Format: Paperback / softback
Pages: 368 pages, 9 halftones, 1 map in 8p mock insert
Publisher: Harvard University Press
Publication Date: 03/09/2013
Category: Asian history
ISBN: 9780674725812
Free Home Delivery
on all orders
Pick up orders
from local bookshops