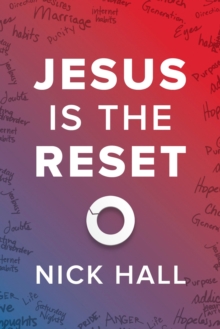 Jesus is the Reset (10 Pack)
Pamphlet
Description
A simple, accessible message in booklet form that introduces readers to the idea that Jesus is our hope--our reset--when we struggle or feel stuck.
This 10-pack booklet delivers a valuable takeaway for the impulse reader while promoting the larger message of the core hard-cover book (Reset).
When our computers freeze, we know to hit the reset button to restore the system.
Sometimes we wish life had a reset button too. Because of past missteps and failure, and our present confusion and discontent, we all crave a second chance--a do-over.
Internationally known evangelist Nick Hall explains that Jesus is that reset.
He restores the areas of our lives where we feel frozen or stuck.
Only Jesus offers life the way it was meant to be and satisfaction in our souls that is vastly more fulfilling than any momentary fun.
Our past mistakes can lead us to the Perfect Healer, who allows us to see His light breaking into every area and empowers our lives to count day by day.
Whether the struggle has been with faith,hope, purity, habits, self-image, relationships, finances, or anything else, Jesus offers everyone an all-encompassing reset.
Information
Format: Pamphlet
Pages: 64 pages
Publisher: Multnomah Press
Publication Date: 07/07/2016
Category: Christian life & practice
ISBN: 9781601429100
Free Home Delivery
on all orders
Pick up orders
from local bookshops