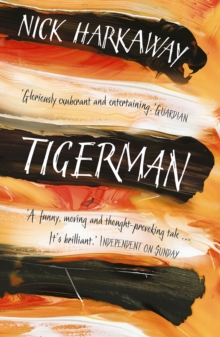 Description
'Gloriously exuberant and entertaining.' Guardian 'A funny, moving and thought-provoking tale ...
It's brilliant.' Independent on SundaySergeant Lester Ferris is a good man in need of a rest.
He's spent a lot of his life being shot at. He has no family, he's nearly forty, burned out and about to be retired.
The island of Mancreu is the perfect place for Lester to serve out his time - and the perfect place for shady business, too, hence the Black Fleet of illicit ships lurking in the bay: listening stations, money laundering operations, drug factories and deniable torture centres.
None of which should be a problem, because Lester's brief is to turn a blind eye. But Lester has made a friend: a brilliant, internet-addled street kid with a comic-book fixation who might, Lester hopes, become an adopted son.
As Mancreu's small society tumbles into violence, the boy needs Lester to be more than just an observer.
He needs him to be a hero.
Information
Format: Paperback
Pages: 384 pages
Publisher: Cornerstone
Publication Date: 02/01/2015
ISBN: 9780099591757
Other Formats
EPUB from £4.99
CD-Audio from £17.95
Free Home Delivery
on all orders
Pick up orders
from local bookshops
Reviews
Showing 1 - 1 of 1 reviews.
Review by AHS-Wolfy
27/08/2015
Lester Ferris' army career is coming to a close. A former sergeant in the British infantry who's seen too much action and has now been given a supposedly quiet posting as brevet-consul for the imminently doomed island of Mancreu. The island is about to be destroyed due to a potential environmental disaster involving chemicals and a volcano. While a NATO protection force oversee the leisurely evacuation it's Lester's job to basically see and do nothing and especially ignore the mysterious fleet of ships anchored just off-shore. He's there just to provide a friendly face and act as a kind of local policeman for the community that remains. This he's done admirably especially with the boy. A street-smart kid who's addicted to comic books. A boy seemingly devoid of family and reticent to expand on himself is quite content in spending time with Lester who has become rather attached. So much so that he's begun making discrete enquiries as to what will happen to the boy when the current situation is all over. So when the boy is badly beaten the two conspire to enact a vengeance on the perpetrators that will set in motion a chain of events that will change everything.This is a gripping action-adventure tale that uses comic-book superhero tropes while examining large scale political issues as well as familial relationships of a father/son dynamic. The characters that inhabit this world are wonderfully put together with depth for each of them and the odd nod and a wink to the stereotypes that often feature in these kind of tales. There are enough fun moments along the way to keep the mood light and the pace,while not frantic, moving along at a fair rate of knots. It's another book that differs from the author's previous two and I'm very impressed by his scope and versatility and one I can now safely add to my favourite authors list. As the boy would put it "This book is full of win!".