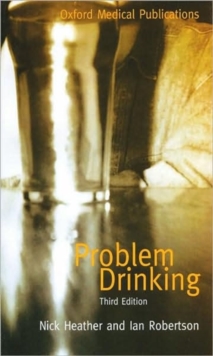 Problem Drinking
Paperback / softback
Description
Problem Drinking aims to bridge the wide gap that exists between the modern, scientific account of the nature of alcohol problems, and the popular understanding of the subject.
In particular, it presents detailed evidence and arguments against the commonly accepted view that 'alcoholism' is best regarded as a disease.
Instead, it outlines an alternative approach to alcohol problems, based on the premise that they are best seen as examples of socially learnedbehaviour. In the third edition, the authors have brought the book up to date by covering the major developments that have taken place in recent years, in particular in the field of genetics.
The book is also one of the first to discuss the results and recommendations of the 5 year long Project MATCH study, probably the most extensive alcohol study ever undertaken, the results of which are due to be published in 1997.
The book provides a useful textbook for students undertaking courses in alcoholism, aspart of psychology and psychiatry degrees, and provides practical advice for counsellors, social workers, and health promotion officers. Reviews of the 2nd edition '... a valuable and clearly written exposition of problem drinking...' British Journal of Psychiatry, 1990 'Certainly this book should provoke general practitioners to reassess their views about the problem and should be read by those people working in the field.' Family Practice, 1991
Information
Format: Paperback / softback
Pages: 240 pages, line figures, tables
Publisher: Oxford University Press
Publication Date: 14/08/1997
Category: Abnormal psychology
ISBN: 9780192628619