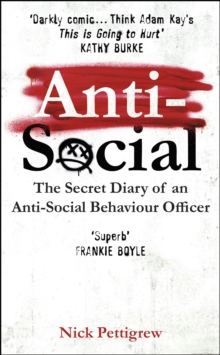 Anti-Social : The secret diary of an anti-social behaviour officer
Hardback
Description
__________________________________'I absolutely loved it.
It reads like a novel, has that page-turning quality everyone looks for in a good book but it delivers the punch that only true life can - funny obviously but with humanity and warmth for people at the edges of society most in need of our understanding and compassion' KIT DE WAAL, author of My Name Is Leon'Superb.
This hysterically funny and moving memoir of an anti-social behaviour officer is a real eye-opener that hits all the right notes' FRANKIE BOYLE__________________________________Has your life become unbearable because the person living above you has a fondness for crack cocaine, the company of strangers and dance music? Or maybe you're a social worker, mental health nurse, police officer, firefighter, dog warden or vicar and you've been landed with someone who's a pain in the arse.
Who are you going to call? That would be me: an anti-social behaviour officer. Anti-Social is the diary of a council worker whose job is to keep his community happy, or at least away from each other's throats.
That's hard enough at the best of times but when government cuts mean that hospitals, social services and police are all at breaking point, the possibility of complete chaos is never far away.
This is an urgent, timely but, most of all, hysterically funny true story of a life spent working with the people society wants to forget and the problems that nobody else can resolve.
This book will make you laugh, cry and boil with rage within a single sentence. __________________________________Perfect for fans of The Secret Barrister and Adam Kay's This is Going to Hurt. __________________________________'Darkly comic ... think Adam Kay's This is Going to Hurt but with more dead bodies (and not just human ones) and an abundance of cat shit.
It's a gloriously cynical read but it's also sympathetic and deeply empathetic.' KATHY BURKE'A funny, thoughtful look into one of the toughest jobs I can imagine' SHAPPI KORSANDI'Riveting and brilliantly written... a potent cocktail of heartbreak and horror; wickedly funny, wearily endearing and absolutely enraging' CAROLINE SANDERSON, Bookseller'Brilliant.
This deserves to be a huge success - funny, sad and heartbreaking' LORRAINE KELLY
Information
Format: Hardback
Pages: 384 pages
Publisher: Cornerstone
Publication Date: 23/07/2020
Category: Memoirs
ISBN: 9781529124774