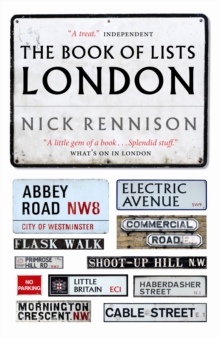 The Book Of Lists London
Paperback / softback
Description
Why did London Underground once employ a one-legged man to ride up and down the escalators at Earl's Court tube station?
What did Hitler plan to do with Nelson's Column? Why is London's only medieval mummy a prostitute named Clarice la Claterballock?
How did a beer flood in Tottenham Court Road drown nine people?
Where can you see a pair of Queen Victoria's knickers?Containing chapters covering London past and present; buildings and streets; famous and unexpected Londoners; arts, literature and crime; plus much much more, the 180 lists will amaze, amuse and inform.
More than simply a keepsake for tourists, every self-respecting Londoner needs this book.
Information
Format: Paperback / softback
Pages: 320 pages
Publisher: Canongate Books Ltd
Publication Date: 26/04/2007
Category: Humour
ISBN: 9781841959344