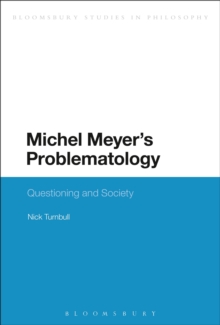 Michel Meyer's Problematology : Questioning and Society
Paperback / softback
Description
In today's society, everything is in question. The reflexive questioning of modernity has fundamentally problematized society, including philosophy, which has experienced a crisis of metaphysics.
Michel Meyer's problematology answers this crisis by questioning questioning, unfolding a new way of doing philosophy, with special relevance for the study of society.
In this first-ever extended treatment of Meyer's work, Nick Turnbull examines the main features of problematology, including the principle of questioning and the deduction of an original conception of difference, based on the question-answer relationship.
Turnbull shows how these concepts produce new perspectives in the philosophy of the emotions, history, meaning, politics, rhetoric and science.
He applies Meyer's ideas to key questions in the philosophy of social science, showing how problematology offers important insights for understanding contemporary society. The book compares problematology with the work of well-known thinkers, including Bourdieu, Castoriadis, Collingwood, Derrida, Dewey, Gadamer, Heidegger and Lyotard.
Turnbull uses problematology and rhetoric to explain how meaning is constructed through practice in the negotiation of social distance.
Information
Format: Paperback / softback
Pages: 216 pages, 10 illus
Publisher: Bloomsbury Publishing PLC
Publication Date: 22/10/2015
Category: Western philosophy, from c 1900 -
ISBN: 9781474242073
Also in the Bloomsbury Studies in Philosophy series | View all