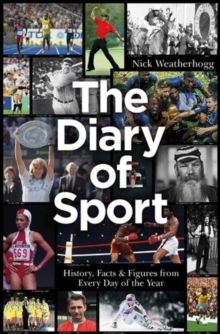 The Diary of Sport : History, Facts & Figures from Every Day of the Year
Hardback
Description
The Diary of Sport brings together the most memorable moments and characters in sports history, in one enthralling diary.
It's not just about football, rugby and cricket - there are highlights from lesser-known sports such as icosathlon, camogie and Haxey Hood as well as the obsolete Olympic events of one-armed weightlifting, two-handed discus, rope climbing and the swimming obstacle course.
Read about the evolution of every major sport from humble beginnings to the multi-million pound businesses we know today.
With an entry for every day of the year, you'll learn about the most significant contributions of the famous - and sometimes infamous - men and women who make the world of sport so compelling.
Discover how sporting hostilities led to war, the sporting geniuses guilty of crass stupidity and the mediocre competitors who achieved glory with one inspired moment of sublime brilliance.
There are underdogs, heroes and villains, gifted winners, spectacular losers and bizarre events aplenty in this page-turning compendium.
Information
Format: Hardback
Pages: 416 pages, Includes pictures throughout
Publisher: Pitch Publishing Ltd
Publication Date: 23/03/2020
ISBN: 9781785316289