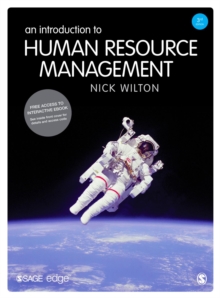 An Introduction to Human Resource Management
Mixed media product
Description
Get 12 months FREE access to an interactive eBook when purchasing the paperback*Reflecting the global nature of the workplace with its use of real world examples and case studies, Nick Wilton's book is not another 'How to' of HRM in practice, but goes beyond the prescriptive approach to the practice of strategic HRM and encourages critical reflection to prepare students for the issues and dilemmas they could face in their careers.
Providing an introduction to the management of people in work organizations, it seeks to outline the purpose and operation of HRM activities in the 'real world', whilst situating practice in the context of associated debates and controversies played out in the parallel field of academic study.
It adopts a critical perspective on the study and practice of HRM to provide the reader with an understanding not only of the potential for HRM to contribute to both improved organizational performance and individual well-being in the workplace, but also why it very often fails to achieve either of these positive outcomes and suggests that the management of people is not the exclusive preserve of HR specialists, but an area of interest or concern for all organizational actors. The new edition comes packed with features that encourage readers to engage and relate theory to practice including:- Management skills and attributes boxes outlining the required competencies of line managers and HR practitioners- HR in practice boxes illustrating how HRM theory works in real world practice- Ethical insights presenting ethical considerations for budding practitioners - Global insights highlighting practices around the world- Research insights inviting students to explore further academic research- Case Studies and Examples offering a more in-depth look at HRM across a variety of organizations- A free interactive eBook* featuring author videos, web-links interactive multiple choice questions, free SAGE journal articles, extended case studies and other relevant links, allowing access on the go and encouraging learning and retention whatever the reading or learning style. Aimed at students across the academic spectrum, whether studying on a specialist HRM or CIPD program of study, a generalist business and management programme or studying HRM as part of a programme in an unrelated discipline (such as engineering or humanities). *Interactivity only available through Vitalsource eBook included as part of paperback product (ISBN 9781473954199).
Access not guaranteed on second-hand copies (as access code may have previously been redeemed).
Other Formats
Mixed media product from £45.98
EPUB from £34.67
PDF from £34.67
Hardback from £109.35