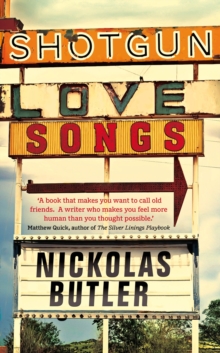 Shotgun Lovesongs
Hardback
Description
Henry, Lee, Kip and Ronny grew up together in rural Wisconsin.
Friends since childhood, their lives all began the same way, but have since taken different paths.
Henry stayed on the family farm and married his first love, whilst the others left in search of something more.
Ronnie became a rodeo star, Kip made his fortune in the city, and musician Lee found fame - but heartbreak, too.
Now all four are back in town for a wedding, each of them hoping to recapture their old closeness but unable to escape how much has changed.
Amid the happiness of reunion and celebration, old rivalries resurface and a wife's secret threatens to tear both a marriage and a friendship apart ...This is a novel about the things that matter - love and loyalty, the power of music and the beauty of nature - told in a uniquely beautiful, warm-hearted and profound way and exploring the age-old question of whether we can ever truly come home.
Information
Format: Hardback
Pages: 256 pages
Publisher: Pan Macmillan
Publication Date: 13/03/2014
ISBN: 9781447238164
Other Formats
Paperback from £4.29
EPUB from £3.99
Free Home Delivery
on all orders
Pick up orders
from local bookshops
Reviews
Showing 1 - 1 of 1 reviews.
Review by AlisonY
27/08/2015
I gave this book 2 weeks of my life and I almost got halfway through, but I just can't face reading any more. This is a first novel, and boy does it show. The basic storyline is about 4 guys from a small town in Wisconsin who are now grown up and leading very different lines. One has stayed a small town boy and is a farmer with a sickeningly perfect wife and 2 perfect children. A second made his fortune in trading and has come back to restore an old mill to deliver a new place of energy to the town. A third has become a global rock star but is greatly troubled by his new life (yeah, sure). The fourth was a rodeo star, but had some accident so dull I now can't remember what it was - he now apparently has brain damage, although when he's leading the narration his thoughts are totally lucid and self-aware. It's too much - I can't read another paragraph full of cliches and similes, simpering narrations, and unbelievable characters. It's one of those books where you're continuously conscious of what the writer was trying to achieve but couldn't pull off. With a great book, I almost forget there even is a writer behind it. This was like all the worst aspects from a Creative Writing course thrown into one book. You could tell he had some awful future Hollywood movie in mind as he was writing, and the dialogue in particular was cringeworthy. The only positive I can take from this book is if this guy can get published to minor critical success, then there's hope for us all.