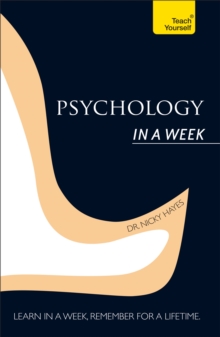 Psychology In A Week: Teach Yourself
Paperback / softback
Description
Learn in a week, remember for a lifetime!In just one week, this accessible book will give you knowledge to last forever.
End of chapter summaries and multiple choice questions are all designed to help you test your knowledge and gain confidence.
So whether you are a student or you simply want to widen your knowledge, you will find this seven-day course a very memorable introduction. Sunday: Learn how humans grow up in and adapt to a social environmentMonday: Discover what emotions are and what affects our state of mindTuesday: Consider why we are motivated to do what we doWednesday: Discover the Buddhist scriptures and learn how they are interpreted today. Thursday: Engage with evolutionary psychology and the role of genes.
Think about what intelligence is and how it comes about. Friday: Discover the factors influencing the psychological development of children, adolescents and adults. Saturday: Explore what psychologists do and how
Information
Format: Paperback / softback
Pages: 128 pages
Publisher: John Murray Press
Publication Date: 30/08/2013
Category: Psychology
ISBN: 9781444196160