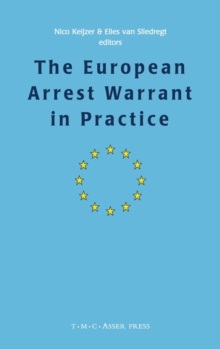 The European Arrest Warrant in Practice
Hardback
Description
the EU Member States are equally authoritative, which leads to serious compli- tions.
After all, translations are always inferior to the original texts.
The conclusion by Advocate-General Kokott in the Pupino case may lead to a practical solution: just use the language/text that reflects the intention of the drafters of the Fra- work Decision most clearly, regardless of the `nationality' of the case.
In the case of the EAW Framework Decision the French text is more authentic than any other text: reliable information from Brussels has taught me that all language versions have been translated from the French.
Moreover, the negotiations on this Fra- work Decision were mostly in French. And so I can now return, with a clear conscience, to my natural state: easygoing if not actually lazy.
Judge Rob Blekxtoon VII Chapter 0 INTRODUCTION We, Europeans, are participants in the shaping of Europe as a political, cultural and constitutional community, a common home in a messy world.
We, lawyers, are responsible for channelling this process and for guarding balance.
The balance we have to guard is between the three identities of every European citizen: his or her European, national and individual identity.
For our European identity to bloom, it is necessary that our national and individual identities also bloom.
Information
Format: Hardback
Pages: 464 pages, 464 p.
Publisher: T.M.C. Asser Press
Publication Date: 19/03/2009
Category: Police procedures
ISBN: 9789067042932
Free Home Delivery
on all orders
Pick up orders
from local bookshops