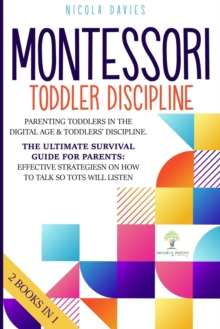 Montessori Toddler Discipline 2 Books in 1 : Parenting Toddlers in the Digital Age & Toddlers' Discipline The Ultimate Survival Guide for Parents: Effective Strategies on How to Talk So Tots Will List
Paperback / softback
Description
When it comes to raising a Montessori toddler in the digital age, an all-encompassing approach is what you need. By combining three reliable and well-known methods, namely Montessori at home, Toddlers' Discipline and Mindfulness for busy parents, you will be equipped with all the right knowledge and tools to cultivate yourself as an adult and your relationship with your child. You will become that Firm, Fair, and Fun parent that everyone would have wished to have. By boosting your toddler's development, establish clear and warm boundaries with effective toddler discipline, you will go to bed every night, and wake up every morning, feeling free from guilt and proud of your family life.
By buying this bundle, or its parts, you might gain the right perspective on parenthood and get to think, and heal, that inner child. Break the generational patterns that might be affecting your life in many ways and free yourself from limiting beliefs about the relationship with your children. Many people are getting involved in expensive parenting training programs that last weeks and cost lots of money while you can have all this information for a very convenient price and always at your fingertips.
The audio format of this bundle makes life even easier for busy parents and provides information on:
* The Top 10 Challenges of Being a Parent in the Digital Age
* Evaluate those Generational Patterns and Models
* Parental Stress Management and Self-Care
* Mindful and Guilt-Free Discipline
* The 7 Steps to Peaceful Parenting
* The Common Mistakes that Parents Make and How to Fix Them
* The Commandments of Toddler Discipline
* Establishing Respect
* Tools for More Cooperative Children
* How to Coach Siblings' Relationships and Rivalry
* Montessori Discipline at Home
* Montessori Toddlers 'Sensitive Period'
* How to Introduce a Montessori Activities
And So Much more that it will blow your mind!!Click BUY NOW and get yourself covered!
Information
Format:Paperback / softback
Pages:476 pages
Publisher:Discourse Maestro Ltd
Publication Date:11/10/2020
Category:
ISBN:9781801112161